The notion of using an internet-enabled TV for anything other than accessing video services is failing, that's according to NPD's John Buffone.
Activities like checking Facebook or Twitter, shopping online and general browsing are performed only by a tiny fraction of internet-enabled TV owners, most opting instead for devices of increased convenience, such as a smartphone, tablet, or laptop.
"HDTVs, gaming consoles, Blu-ray Disc players, and other connected devices offer an array of applications, ranging from Twitter and Facebook to web browsing. But, in general, these have failed to resonate with the audience, not least because there are better platforms, such as the PC, tablet, or smartphone, for such services." – comments Buffone.
While only 15% of HDTVs are connected directly to the internet, the number of internet-enabled HDTVs increases to 29% when considering peripheral devices like gaming consoles, Blu-ray players, and set-top boxes, among others, that act as a bridge between a TV and the internet.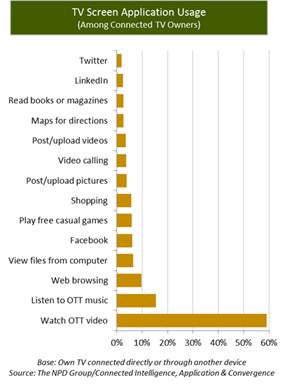 Around 60% of internet-enabled TV application usage is spent using video streaming services like Netflix. Apart from audio streaming services like Pandora, which accounts for around 15% of application usage on connected TVs, all other activity such as social networking and general browsing accounts for significantly less, between 2-9%.
These findings aren't surprising. Streaming movies and listening to music in a home's entertainment room are shared activities, generally. Checking one's Facebook stream or shopping online are personal activities, much more suited to personal devices.