Microsoft's rebranding of Hotmail to Outlook.com wasn't just a case of Redmond aligning its brands – it was a measure designed to prevent the site losing even more of its users. More and more users, according to ComScore's data are rapidly adopting to other services, most notably Russia's Yandex and America's Gmail.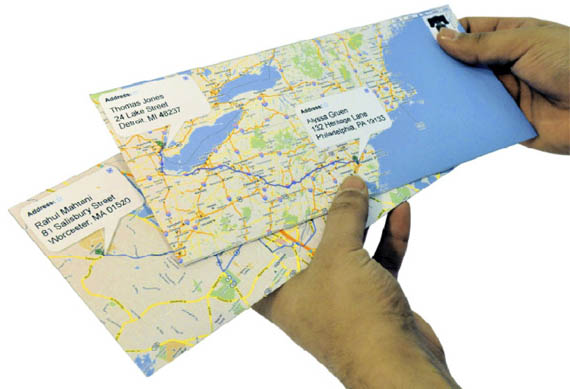 Google Vs Microsoft
Gmail might be one of Google's most prominent and successful services but, believe it or not, it's not the most popular web-based email service. Data from ComScore shows that Gmail is beaten well into second place by Microsoft's Hotmail (now Outlook.com) in Europe. In June 2012 Hotmail registered 108,202 million unique visitors – Gmail came a distant second with 74,670 million unique visitors.
So far so good for Microsoft. But ComScore also measured the number of monthly users in June 2012 against the total monthly number of users in June 2011. Between 2011 and 2012 unique visits to the Hotmail website grew by 1%. Over the same period the number of unique visits to Gmail's site grew by a massive 18%. It's not only the number of unique visitors that's changed in Gmail's favour, the total number of minutes users spend on each of these websites has too. Hotmail users spent a total of 14% fewer minutes on the site in June this year compared to the same period last year. Gmail users, on the other hand, spent 7% more.
Some good news for Yahoo!, for once
These is also some good news for Yahoo! Mail which saw a 4% year-on-year increase in unique visitors and a significant 29% year-on-year increase in minutes spent on the site. But even this doesn't compare to Russia's Yandex and Mail.ru websites which saw better growth. Yandex's unique visitors were up by 37%, although it still has about one third the number of unique visitors (25,143 million) as Gmail. Yandex users were also spending more minutes on the site – an increase of 58%. The larger Mail.ru, which had 42,767 million unique visitors in June, saw uniques grow by 22% year-on-year and average minutes grow by 15%.
Overall, between June 2011 and June 2012 web-based email users grew by 14% in Europe but users spent 6% fewer minutes using them.
What this means for Google+
If Google can convert this growing Gmail audience to become Google+ users than its young social network might have a chance at developing a significant number of users – but this scenario mightn't be too easy to achieve. Microsoft's re-styled and rebranded Outlook.com has received strong reviews, if Microsoft can increase its total number of users, perhaps with the help of Windows 8 later this year, it could remain as the most significant player in online email in Europe and elsewhere.
Top 5 Email Sites in Europe by Total Audience (000)
June 2011 vs June 2012
Total Europe: Age 15+, Home & Work Locations
Use the links to sort data

Source: comScore MMX
Web-based email users by European country
Across Europe in June 2012 276.5 million people (69.5% of the internet population aged 15 years or over) accessed web-based email services, an increase of 14% on 2011. Ireland saw the greatest year-on-year growth of 23% (1.6 million users) meaning that 69.4% of the population accessed a web-based email service. The Russian Federation was the only other country to see growth of over 21%, most of which was concentrated on the uptake of Russian email providors.
Germany saw the smallest growth (2%) but still has the second largest total audience (34.485 million). Only Russia has a larger audience (40.940 million).
The U.K. has the largest percentage of web email users (82.7%) and also saw some good growth of 9% year-on-year. Followed by Spain (79.2%) Netherlands (78.9%), and France (77.2%).
Top 10 European Markets for E-mail Sites by Percent Reach
June 2011 vs June 2012
Europe: Age 15+, Home & Work Locations
Use the links to sort data

Source: comScore MMX
Online users
Even though some of the world's largest internet companies have large offices in Ireland – including Google, Facebook, Microsoft, Apple, Dell, Yahoo!, and Twitter, Irish users spent the least amount of time. Ireland was in fifth last place for average monthly internet use, with just 20.4 hours online in June – just ahead of Portugal, which spent 20.2 hours. While they might have spent more time online than their Portuguese counterparts Irish users visited fewer pages on average.
Both countries are below the European average of 25.9 hours and the global average of 24 hours.
Internet users in the U.K. spent the greatest amount of time online – about 37.9 hours, followed by The Netherlands at 32.6 hours. U.K. users also visited the greatest number of pages, 3,434 – well above the European average of 2694.
Overview of European Internet Usage by Country Ranked by Unique Visitors (000)
June 2012
Total European Internet Audience, Age 15+, Home and Work Locations
Use the links to sort data

Source: comScore MMX
Overall
There is a strong contrast between the two native English-speaking countries in the data. The U.K. market is one of the most engaged online but it is also one of the most mature. U.K. users spent more time online than the rest of the continent and spent more time logged into their emails. Irish web-email use has seen significant growth over the past year but the Irish did't spend a large amount of time online.
That said, web-email use as been strong across Europe and the company that can control this area stands to profit a lot. While it is unlikely that Russian email service providers can gain a large number of E.U. users it is up for debate whether U.S. providers such as Gmail and Outlook.com can gain any kind of foothold in Russia against the country's native providors.