This is it, Google's new search page design.  It's seems to already be a hit with users, albeit a controversial one, and it is certainly a striking change from the site's previous colorful look.
[Update: 2011/06/29 09:00: Hours after publishing this Google launched their social layer, Google+, in private beta. Read all about it here]
The new design adds a faint grey box to the banner around the search field, and a stylised blue search icon. The sidebar now has orange/red headers and each of the links are dark grey. Most importantly, Google has killed the "I'm feeling lucky button" although that was probably inevitable considering how little it was used.
With the makeover Google looks to be creating a design which is easier to use, if somewhat less visually appealing.
Google said of the redesign, "Whether you're searching, emailing or looking for a map, the only thing you should be concerned about is getting what you want. Our job is to provide the tools and features that will get you there quickly and easily. With the design changes in the coming weeks and months, we're bringing forward the stuff that matters to you and getting all the other clutter out of your way. Even simple changes, like using bolder colors for actionable buttons or hiding navigation buttons until they're actually needed, can help you better focus on only what you need at the moment."
Google also said it will be rolling out redesigns to other services, including Gmail and Google Maps.
[Update: 2011/06/28 – 23:42:] Twitter user @cattywa pointed out that some users are seeing a different design. This one shows a black bar across the top with the old-style buttons
Also today Google launched a site called What do you love? which is a search engine designed to show off the various services Google provides. When you search for a term the site aggregates the results from across Google's services.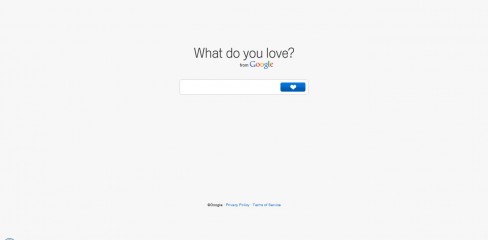 So, a search for Dublin automatically translates the word into various languages, shows results for books containing the term, shows recent search popularity, picks out images of the city, and lets you search 3D maps of famous landmarks. The results will also let you email someone about Dublin via Gmail or call someone about the city through Google talk.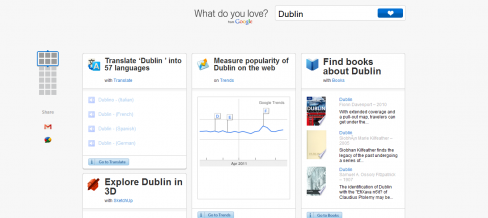 What's the point of this you might ask? Well there isn't one except to advertise those Google services which you might not regularly use (e.g., Google Moderator, Google Sketchup)
Word of warning, don't search for "gmail" on the site – at the moment the search result are strictly for over 18s only for some reason…