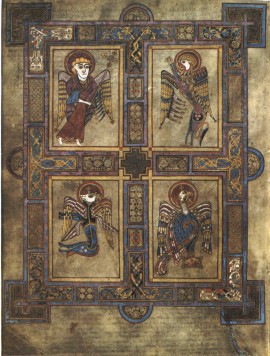 Trinity College Dublin has filed several applications in the past year to copyright the term "The Books of Kells"
, for use in digital media and commercial products according to records from the organisation responsible for registering European trademarks.
On the 28th of January this year an application was made by The Provost, Fellows and Scholars of the College of the Holy and Undivided Trinity of Queen Elizabeth near Dublin, the incorporated name for the college, to the Office for Harmonisation in the Internal Market (OHIM) requesting copyright for the word "The Book of Kells".  The application, if granted, would cover the use of the term for "Textiles and textile goods, not included in other classes; bed and table covers; towels, tea towels, napkins, placemats, tablecloths, cushion covers, bed linen and bath linen."
However, another application by the college, which was registered on February 17 last year, granted the university the copyright to use the term for in digital media, including downloads, website uses and video games as well as other technological and digital media.  The application was filed in July 2009 and will last until 2019.
Trinity has heald copyrights for the term "The Book of Kells" from as early as 1999.