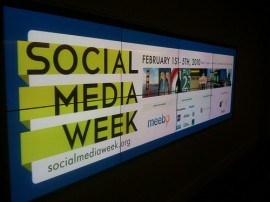 To celebrate Social Media week 2011, Skype will be giving away freey WiFi access in nine cities around the world.
Citizens in New York, San Francisco, London, Rome, Paris, Toronto, Sao Paulo, Hong Kong and Istanbul, who use Skype Access, will be able to make VOIP calls and surf for free at public WiFi hotspots for free during the week.
Skype Access is a service that allows customers to use their Skype Credit to pay for hotspot WiFi access.  The system effectivly allows customers to redirect credit which would normally be used to pay for computer-to-landline calls for use on paid-for public WiFi hotspots.
A word of warning the offer only allows for free WiFi access for up to one hour over the five days; after that the cost of surfing will be deducted from your Skype credit as normal.
The biannual Social Media Week, which is in its second year,  runs from February 7 to 11 .  This week it is sponsored by Nokia, who on Friday are due to make an announcement about the future of Symbian.
You can learn more about Social Media week here.

The offer runs from 7th February 2011 to to to 12th February, inclusive, this year.
Image by stevegarfield on Flickr