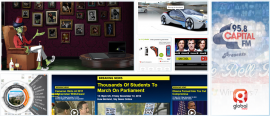 Microsoft is finishing rolling out its latest update to its Internet Explorer browser to millions of Windows Vista and 7 users this weekend.
Internet Explorer 9 Release Candidate has been issued in February's automatic security download for Windows machines running the two latest versions of the company's operating system, Vista and 7.
A Release Candidate (RC) is a final stage in testing a programme designed to iron out minor bugs and glitches prior to the final release of the full product.
This latest release of Windows' much maligned IE browser features a similar graphic interface as Chrome and Firefox. Microsoft claims that IE9 has been designed to user more of a PC's processing and an improved JavaScript engine to power web applications. It also features greater HTML5 and CSS3 support.
Included in this release are anti-tracking applications designed to "limit the browser's communication with certain websites" such as WebTrends and Google Analytics which record user details. However, as with other modern browsers, IE9 includes geolocation tracking designed to customise sites and content by the user's location.
The security update comes as Mozilla released the, reportedly, last beta version of its Firefox 4 browser. Firefox has had a long and bumpy beta release process and the final release is due in the coming weeks.