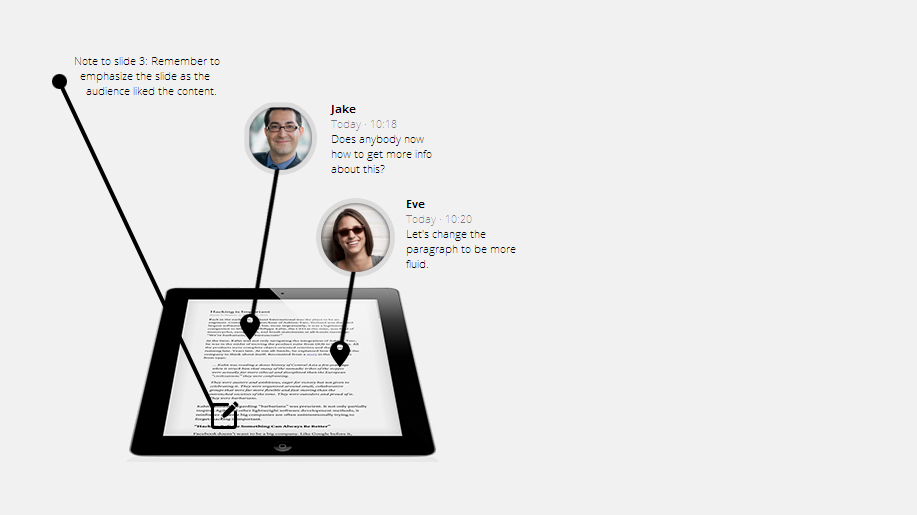 As the entertainment industry races to get its head around the possibilities of the second screen two serial entrepreneurs have taken the concept and actually developed something that's not only useful, but necessary.
While we're used to sharing files through services like Dropbox and even editing them live using Google Docs presenation.io takes the collaborate concept further. It allows business people and lecturers to broadcast their presentation to their audience's different viewing devices.
When an audience member opens the presentation link on their second screen (laptop, smartphone, tablet) the presentation will move in sync with the presenter's as they talk. And if enabled by the presenter, the audience can also add live comments to the presentation.
The developers say the site can manage over 20 different file types, meaning there's no requirement to recreate presentation files on the site.
No more death by PowerPoint
The concept was brought to life by the creative team behind the collaborative creative screen sharing web app CanvasDropr, and according to the company's co-founder, Cathrine Andersen, it was developed based on "pure customer demand."
Read more about CanvasDropr
CanvasDropr's co-founder and CTO Christian Rasmussen says that the site has been developed to create a more collaborative way of engaging with business and education audiences.
"Presenters often lose their audience, it's hard to stay on the same page both when your audience is in the same room or across the globe"
And the customers that demanded it are some of the biggest names in education. Before it even launched the site has signed up MIT, Stanford, Yale University, and Cornell University.

This evolution of the second screen takes the concept away from the confines of the entertainment industry and shows how those tables and smartphones we carry with us are more than just a means of checking status updates.

Presentation.io operates as a freemium service; signing up is free and any slides shared are available for 48 hours. A paid account costs $14 per month.

<!-comments-button-->