After a busy two days at LeWeb in the heart of London, we takes a look back at the Gallic invasion of London's tech scene. 
Officially, the theme for this year's LeWeb conference was "Faster than real-time."  But if that was the theme it certainly wasn't the motto.  The set of words many, if not most, of the guest speakers uttered were these;
"We're not about social, we're about discovery."
It's not that social isn't sexy anymore, or that it was a passing fad from 2008, it's that the great frontier that was the social landscape has been settled.  The borders of the major players; Facebook, Twitter, and LinkedIn, have been set and on top of these the social layer of Instagram, social games and apps are now in place
Indeed, Facebook's Director of Platform Partnerships, Christian Gallardo, was one of the first at the conference to refer to the growing importance of discovery.  Citing Facebook's just-launched London Olympics 2012 portal Gallardo emphasised its focus on discovery. When drawn on what Facebook might be like in eight years, he again said it would be about discovery (and "mobile, mobile, mobile").
Skype's co-founder, Niklas Zennstrom, described this new focus on discovery as an evolution in the way we use the web. Zennstrom said the challenge of the past 10 years has been one of building the technologies but the focus now must be on how we use them. Zennstrom further described the importance of discovery from governments' and companies' viewpoints – he argued that ever more valuable data can be discovered from a smart analysis of online user data.  Philipp Nattermann, a partner at McKinsey & Company, picked up on this point, describing how mentions of flu on Twitter and search was a good indicator of a potential epidemic.
SoundCloud's founder and CEO Alexander Ljung, in a rather pragmatic assessment of the sate of user-generated audio on the web, said that while audio will remain under used online the site's new design (which can be previewed here), in spite of adding more social features, is all about discovery.  Features like constantly streaming audio and improved search are designed to keep us in SoundCloud's ecosystem eager to make our latest discovery – which we will, of course, share with friends.
In the app environment discovery has become the focus for developers. The 16 year-old founder of Summly, Nick D'Aloisio said, when asked if his app devalues online content, that it had been designed to increase content discovery, for the benefit of readers and writers.
Even Google, which spent 30 minutes promoting its year-old social network, Google+, announced that Flipboard was integrating with the site to aid content discovery.  Admitting that it was late to the social scene Google was keen to push Google+ as a content discovery platform as much as a social network.
Google might be happy that Flipboard is onboard but it will leave LeWeb with some concerns that only a handful of the 150/200 (by our count) attendees on the floor indicated by show of hands, that they used the site.  Encouraging users to discover Google+ itself might be the social network's biggest challenge.
Dr DJ Patil, a Data Scientist in Residence at Greylock Partners, showed us the other side of the content discovery theme when he described the increasingly clever ways social sites are using their users' data to target ads and content recommendations.  Using LinkedIn as an example Dr Patil showed how LinkedIn developed one simple piece of code from its users' data to sell highly successful ads to them, a system that was copied by other sites (i.e. Facebook) with similar success.
Paul Davison, the founder and CEO of Highlight, took a rather different view of discovery.  Davison would appear to agree with Niklas Zennstrom that until now the main focus has been on developing the technologies but, he says, going forward, "we need to discover how to use social and mobile technologies in society."
Speaking on Wednesday Alec Ross, the Senior Advisor for Innovation to the Office of the Secretary of State, Hillary Clinton, took this view a step further and suggested that governments need to discover how they can, and should, use these technologies to help their citizens.  Citing the Arab Spring and anti-SPOA protests, Ross suggested that governments from the US, Europe, Africa, and China are still discovering the ways that their citizens want to interact with them online.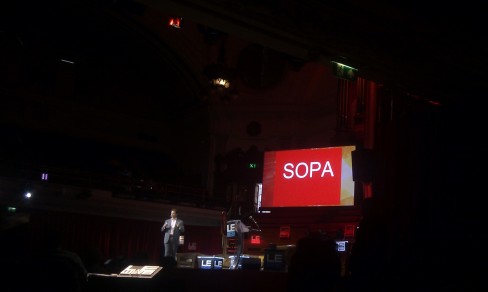 Rewind 12 hours to Tuesday afternoon and Michael Bracken, the Executive Director of Digital of Government Digital Services at the UK Cabinet Office spoke about how the UK is attempting to do just that.  Using open source tech the UK government is attempting to discover how to deliver digital services online (gov.uk is still in beta). Meanwhile, Martha Lane Fox, the UK Digital Champion, is trying to encourage more UK citizens, who have never been online to discover the web.  She pointed out that 50% of homeless people have access to mobile devices but few charities and organisations have discovered how to use this platform to reach the people they help.
Summing up the move from social to discovery, the CEO and founder of Instagram, Kevin Systrom, said;
"We have the content, now it's about exploring it."