YouTube has added face blurring technology to its post-processing toolset in a bid to encourage greater visual anonymity online, a feature that is says will be particularly beneficial to those involved in human rights activism.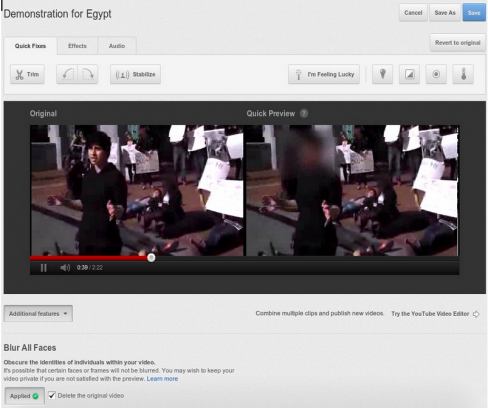 The video sharing site has already proved itself as a valuable platform for citizen journalists in the Arab Spring desperate to provide direct footage of events happening on the ground, often without bias or political agenda.
"Visual anonymity in video allows people to share personal footage more widely and to speak out when they otherwise may not".
YouTube realises that footage of such events "opens up new risks to the people posting videos and to those filmed" and believes that face blurring technology is a "first step" to protecting those at risk from regime reprisal.
Of course, face blurring technology isn't all about exposing far away governments with reduced risk. Identity blurring can be used for more innocent and ethical purposes like sharing footage of your child at a sporting event.
"Whether you want to share sensitive protest footage without exposing the faces of the activists involved, or share the winning point in your 8-year-old's basketball game without broadcasting the children's faces to the world, our face blurring technology is a first step towards providing visual anonymity for video on YouTube."
YouTube has cautioned that the technology used is "emerging" and that it sometimes has "difficulty detecting faces depending on the angle, lighting, obstructions and video quality". It's advised to review any footage before openly publishing to ensure that all faces have been blurred affectively.