The results of a survey published in recent days suggests that 13% of Amazon customers would like to purchase cryptocurrency through the e-commerce giant.
As part of the study, investing.com surveyed in excess of 1,000 Amazon customers. Participants were provided with a choice of fourteen categories of items and given the choice of selecting which they would feel comfortable in purchasing under the Amazon brand.
Respondents had the option of selecting multiple items as part of the survey. Whilst "cryptocurrencies" appear at the bottom of the list, it could still have some significance. A positive response rate of 13% may not seem like a lot but putting it in the context of the current niche positioning of cryptocurrencies currently, it could be perceived to be an encouraging indicator.
Whilst there has been a lot of hype about cryptocurrencies over the past 12 months, the technology and the business sector are still nascent and in the process of development.  Furthermore, its encouraging that the demographic spread of the respondents ranged from 18 to 84.  Cryptocurrency has emerged largely with the millennial generation and it is that younger demographic subset that is driving interest in the technology.
One of the criticisms of the technology in terms of its use as a day to day currency is the difficulty ordinary people experience in trying to use it.  For that reason, its less likely to appeal to the older demographic as by and large, they tend to be less tech savvy.
If survey results were adjusted to represent responses only from the lower age group, it would be reasonable to assume that the level of interest in buying cryptocurrency under the Amazon brand would be considerably higher.
Work is ongoing in the crypto-space to make the technology more accessible to ordinary people.  The analogy is often drawn with the development of the internet.  To precisely this point, Bitcoin maximalist Dennis Parker tweeted a newspaper clip yesterday that demonstrates just how hard it was to send an email in the early days of the internet revolution.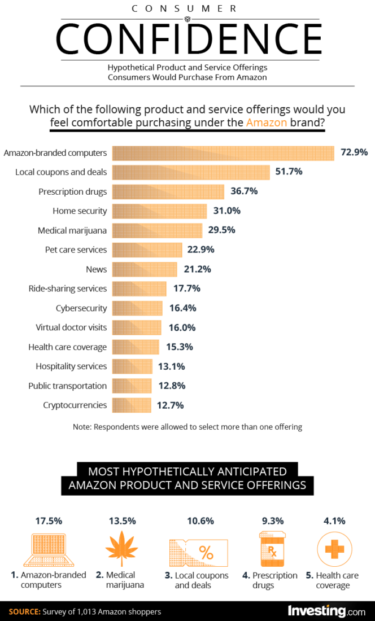 With ongoing work to make the technology more accessible – together with an ever increasing exposure of young people to the technology, could the time soon be right for Amazon to get involved?
The level of interest could always be higher but nonetheless, 13% of respondents indicating that they would like to see Amazon offer cryptocurrency cannot be ignored.  An influential figure in the cryptocurrency industry certainly thinks that its in Amazon's best interests to accept cryptocurrency payment.
Changpeng Zhao is the founder and CEO of cryptocurrency exchange, Binance.  The company's rise has been nothing short of spectacular – rising to become one of the largest global crypto exchanges in less than a couple of years.
Taking to Twitter on the weekend, Zhao – better known as 'CZ' in crypto circles – stated:
For any internet (non-physical) based business, I don't understand why anyone would not accept crypto for payments. It is easier, faster and cheaper to integration than traditional payment gateways. Less paperwork. And reaches more diverse demographic and geography.

— CZ Binance (@cz_binance) February 2, 2019
In the same Twitter thread, he added:
Amazon will have to issue a currency sooner or later.

— CZ Binance (@cz_binance) February 2, 2019
To his point, last week it emerged that payment system provider, WorldFirst was withdrawing services from U.S. based Amazon sellers.  It's understood that WorldFirst – whose parent company is U.K. based – is in the process of being acquired by China's Ant Financial.  No reason was given for the withdrawal of international money transfer facilities but it's thought that the current U.S. – China trade war is implicated.  An issue of this nature can't emerge with cryptocurrency.
There's no doubt that those involved in the cryptocurrency industry have long speculated about the involvement of Amazon with crypto.  The industry would welcome such a move as it would make cryptocurrency so much more available to ordinary people and offer them the opportunity to use it seamlessly.
Notwithstanding that, it seems that there is every reason to believe that crypto payments would be beneficial to Amazon itself.