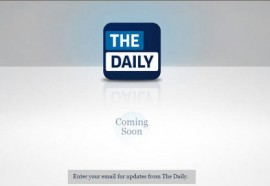 Apple and News Corp. have announced that the subscription based  "The Daily" iPad news app will be released on February 2nd in the US. They also confirmed that the app's subscription model will cost 99 cent a week.
Speaking at the DLD conference James Murdoch said the move to a subscriptions app model was risky but could be very beneficial to the company, "The pricing models for apps and paid journalism in general is developing…We'd like to see quite a lot of customers but we don't know the pace of it. A weekly subscription is a very different animal."
In the venture News Corp. will be dropping $30 million on the app supported by over 120 journalists and staffers. On Apple's side The Daily will be company's first major push from a once-off to a subscription based app purchasing model.
The launch of the app was set to take place on January 19 at the San Francisco Museum of Modern Art, although it is believed that this date was changed due to Jobs' illness.
The app will now be launched in New York's Guggenheim on Wednesday by Rupert Murdoch and iTunes' Eddy Cue. The Daily will initially only launch in the US.