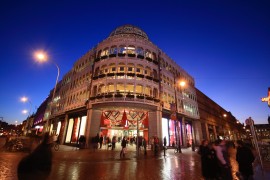 Irish web-shoppers are looking for bargains, and party apparel this Christmas, according to search information from Google.
Information from Google Insights for Search, a web application from Google that records the most frequent search terms, shows that eBay is the most 'googled' shopping related term in Ireland over the past seven days. DoneDeal, an Irish owned ads website is the fourth most searched for shopping term.
Top 10 Google search shopping-related terms for the first week of December 2010
The catalogue retailer Argos was the most searched for shop, behind eBay, with the pharmacy Boots, in third position.
The data suggests that the women of Ireland are getting ready for this year's Christmas party season. The list of top ten most searched for shopping terms include River Island, Debenhams, Next and topshopas well as the word 'dresses'.
Separately, the data reports that Monsoon, Dorothy Perkins and jewellery retailer Pandora, are the fastest rising search terms over the past week. Again, Boots features on this list having seen a 60% increase in searches since the beginning of December.
Rising Google shopping-related searches for the first week of December 2010
Despite this week's austerity budget 2010 is expected to see an increase in the number of purchases made online in the lead up to Christmas. In America, US shoppers have already spent $17.5 billion on Christmas presents online this year, a 12% increase on last year.