PR solutions company Publicize announces the launch of Publicize Zero to make PR more accessible to millions of startups across the globe.
The development team at Publicize has been meticulously pounding away on both the front and back-end operations to bring forth Publicize Zero – an online platform that provides startups and enterprises all the materials and knowledge they need to run a successful PR campaign.
Educational resources, insightful webinars with journalists and editors from major publications, as well as 9-5 chat support with professional strategists come free of charge in Publicize Zero's do-it-yourself solution.
"Publicize has moved beyond standard PR by making our services available to everyone at no cost. We aim to help businesses secure the meaningful media coverage they need," said Publicize's Head of Product, Xander Kahle.
Through its revolutionary interactive, online dashboard, users gain inside access to a step-by-step PR process that until now, has been a source of constant confusion for anyone outside the traditional PR industry trying to get an understanding on how to get their stories published in the media.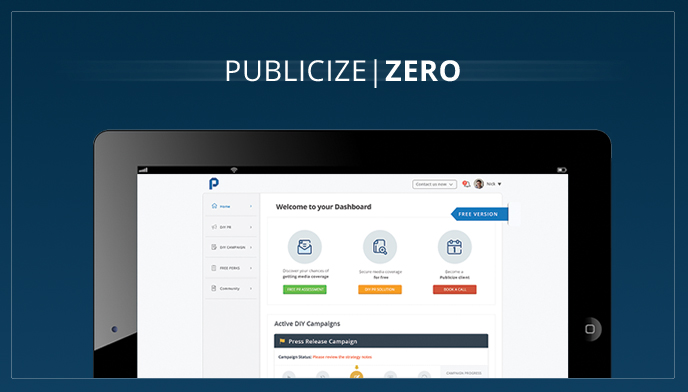 However, Publicize is not a traditional PR firm, and has never claimed to be one. While traditionally large PR agencies demand retainers of up to $20,000 a month, Publicize's non-DIY PR Service starts at $399/month with up to a 100% money-back guarantee each month.
Publicize Service clients are privy to Publicize Zero's interactive dashboard that helps manage their PR campaigns as well as direct communication with an account manager. There are also additional media opportunities and 100% transparency with journalist communications at all time. In this way, Publicize aims to change the way startups approach PR.
Over 100 million business are launched annually. That's three new businesses every second and 11,000 per hour, according to City A.M. Naturally, not all of those business will last, but the ones with the most innovative products and best PR solutions are the most likely to survive.
"Publicize Zero was built so that anyone, regardless of their location or prior successes, could grow his or her profile and media awareness for free," said 500 Startups Global Mentor and Publicize CEO Conrad Egusa. "Our focus has always been to add on value and minimize risk for entrepreneurs – this new platform is an exciting and important step for everyone on our team."
Having recently partnered with The Founder Institute, Publicize is helping startups get better media coverage at a fraction of the cost. The platform's scalability caters to companies of all sizes, including Hallmark and Microsoft, and Publicize's PR solutions work across industries from tech to fashion, entertainment, and beyond.
Read More: Publicize PR partners with Founder Institute to boost startup growth
Since its early beginnings Publicize has tried to bridge the gap between the worlds of PR and the media, by promoting "ethical" PR practices, and supporting the media through its 'Reporter-in-Residence' program that was featured on TechCrunch.