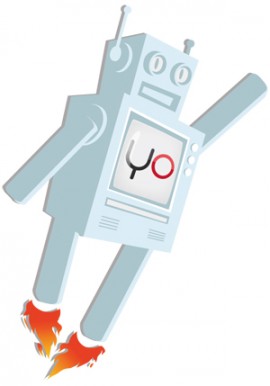 Entrepreneur and blogger Lior Levin (@liors) kick starts our start-up series with some vital advice for both new and experienced entrepreneurs;
Your website speed matters more than you think. That stylish new website you had built is worth little if it doesn't perform.
Lior explains how services like the critically acclaimed website optimisation service Yotta (@yottaa | Facebook | Google+) can give your site a much needed speed boost.

One of the most important aspects of any start-up's website is speed. Entrepreneurs and start-ups need to pay attention to the speed of their websites. Customers spend thousands of dollars upgrading their computers with all the latest technology just to make them faster. The same holds true for visiting websites. Your customers want a website that loads fast; for new businesses, a slow website can mean the difference between keeping a customer and losing one. In fact, a recent study found that 57 percent of consumers will leave a website if they have to wait more than three seconds for it to load. Such a short period of time can literally take money out of a business owner's pocket. As an entrepreneur, you need to make sure that your website is optimized to provide a desirable experience for potential customers.
One of the best things you can do for your home on the web is to invest in tools that allow you to improve your website's loading time. There are a number of websites that use cloud-based solutions that can help any start-up or entrepreneur optimize website loading times, in some cases cutting the load time in half.
According to William Toll, VP of marketing for Yottaa, a web performance optimization company, most of the load time for a website comes from the front end. When considering a solution to your website loading speed problems, find out what the service provides, and how it plans to cut your load times. You will be able to solve most of your load time problems and focus more on getting your start-up off the ground.
There are a number of free websites that show you how where the load times in your website came from, and help you measure load times. However, many of these free services offer no means to actually fix your problems. As a result, it can be useful to consider the paid services that come with a Site Speed Optimizer that helps you actually dig in and fix the problems at the source.
Paid services also offer the advantage of lower costs. A massive website like Amazon or Google can afford the luxury of hiring a team dedicated to working out load times and streamlining the process, but a small business just can't make up for that kind of monetary and time cost. As an entrepreneur, you need to get the best value for your money on a shoestring budget. Choosing a paid service is a happy medium: You get the kind of service you require to help you optimize your website performance, but for an affordable price.
Some of the items to consider as you search for a website optimizer include your bandwidth, and the page views your start-up's website are likely to receive. Before you agree to a service, find out what, exactly, that service will do for you, and how it will get done. You might not want a service that bogs down your own computers and servers with software.
Look for a cloud-based solution. There is no software to install, or code to add to your website. A cloud based infrastructure can greatly improve front end loading time for your website, and offers the flexibility an entrepreneur needs. A good cloud system like that offered by Yottaa is a self aware system that is fully scalable, and it grants access to all of the appropriate servers, depending on the load your website demands at that particular time.
Many website optimization services also offer free trials. Follow the step by step set up process, and begin your free trial. Within a few minutes you should notice a significant increase in your website's speed and performance. Hopefully, you will also notice a gain in your customer base, since there will be no more customers running away due to lack of patience. The difference will be noticeable, so you should be able to tell that the program is working easily, and more importantly, the visitors to your site will notice the difference as well. After testing a service with a free trial, you can decide what sort of plan would work best for your start-up's website.
Because you will need a solution that matches your company's individual needs, look for a company that offers custom solutions. Enterprise plans can usually be tailored for start-up companies who need specific solutions. Be sure to compare your options, so that you understand the difference between different service offerings. You want to choose the best service for your business — and get the best value for your money.
The right website optimization service can help any web-based entrepreneur. A good website performance optimizer can save a start-up time and money: two of the most important resources for a successful business. Shop around, try a free trial, and see how the cloud can improve your business for the better.
This guest post is written by Lior Levin, a marketing consultant for an online company that provides businesses and individuals with a task management tool, and who also consults for an international china inspection company.