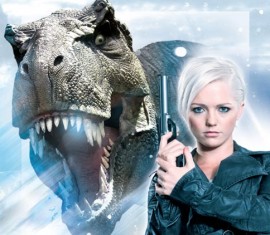 The BBC is set unleash a hoard of dinosaurs and other prehistoric creatures on Dublin City this New Year's Day with the US and UK premiers of Primeval.
The BBC's time-jumping dinosaur series will premier in the States on BBC America and in the UK on ITV this New Year's Day. This latest series of the show was filmed in Dublin City, and other parts of Ireland, in 2010. Production began on March and finished in November, Irish set locations included the Powerscourt Estate, The O2, Dublin port, Grand Canal Dock and Park West Business Park.
Primeval was originally shown on ITV but production was moved to the BBC when ITV felt they were unable to continue making the programme, which relies on costly CGI. As part of the cost cutting measures production was moved to Ireland to avail of Section 481 incentives which provide financial support to film productions. The latest series cost over €15m to make and has created 70 jobs in the Irish entertainment sector.