In a world where discovery is currency, finding and spreading the most interesting content before everyone else has become a challenge.  Thousands of pieces of content vie for your attention, begging you to pass them on but how do you judge the so-bad-they're-good videos from the just plain awful?
You use the wisdom of crowds – and one London-based Irish-entrepreneur, Dave Ganly, is trying to do just that, with his Viral Video eXchange (VVX) (@vvxio | Facebook).  VVX is a shares-based game that is designed to allow users to find, submit and bet on viral YouTube video – players invest the in-game currency in videos in the hope that others will do the same and the video will go viral.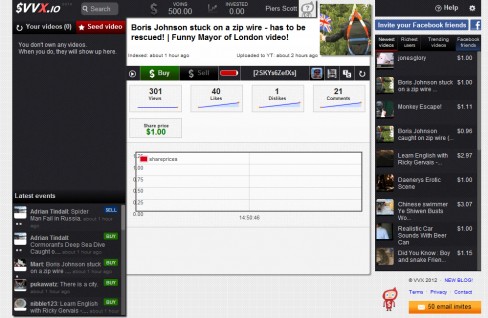 We spoke to Ganly about VVX and his start-up experience – like many entrepreneurs he explains how his start-up began in his spare time, while he was working at his day job, but grew into more than a home project.
"It really is a part-time labour of love. My day job doesn't include coding, so this started as a way to get my self stuck back into it – once I validated that it wasn't a ridiculous concept I figured it was worth finishing and releasing to the world. I really want to make something that has intrinsic value – i.e. the viral prediction part is fascinating to me."

Real actors read Yelp reviews, currently going viral on VVX
Ganly's background in digital technology – he studied Computers and Law at Kings College London – helped him develop the application but it all came down to hard graft to take the initial idea and turn it into the realised product.
"I'm a classic jack-of-all trades tech guy – I did all the graphics, all the back end, the mobile version, animation," he explains.

"It's written in Ruby on Rails with a healthy sprinkling of HTML5 (it's a one page app) and real-time tech dropped on top. The original MVP (minimum viable product) was coded between September and November and then released to friends for a week long test – they enjoyed it even though the version barely worked. This validated that the idea had potential."
Using lean-start-up principles Ganly took his initial concept and, once tested, redeveloped it based on the user feedback.
"I then went back and rewrote most of it (but still in RnR) and released a second test – this one in January 2012 for two weeks. That one worked even better, and through validation of the concepts in the game I was able to go away until June and rework it into the full blown public beta launching now."
As for the future, Ganly says that the aim is to get the audience in to build a strong ecosystem.
"I want people to enjoy it without the threat of pop-ups telling them to spend money – it's a fun game, not a million dollar business right now. The real value is in the prediction aspect – with a decent crop of users playing it becomes a fascinating tool for predicting what videos will go viral. "