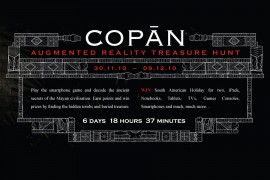 More details have emerged today about the mysterious augmented reality game based in Dublin known as Copān. The game is part of an innovative marketing campaign surrounding the launch of the new Copān Bar venue in Rathmines, Dublin.
The game officially starts on November 30th and runs until December 9th 2010. Players must find Copān posters and use their smartphones to scan QR codes and interact with the game. At each location players earn points by completing certain challenges.
A statement on the website reads:
"Play the smartphone game and decode the ancient secrets of the Mayan civilisation. Earn points and win prizes by finding the hidden tombs and buried treasure."
At the end of the game players with the most points can win prizes ranging from iPads, notebooks, tablets, TVs, games consoles, smartphones, and even a holiday for two to South America.
Players must first sign-up with their email address on the Copān website to receive an invite to play. Partners involved in the campaign include The Carphone Warehouse, Bravo, 98FM, and ScreenClick.
Will you take part in the game? Let us know in the comments.