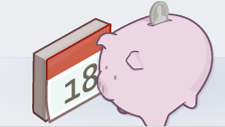 Facebook has fired another warning shot over Google's bow today by announcing that it will begin encouraging users to make the social network their homepage.
Over the next few of weeks profiles for the social network's half-billion members will be changed to include a link prompting them to set Facebook.com as their browser's default homepage. Facebook hopes this will increase the amount of time users spend on the site and bolster the site's already impressive €60 million ($80 million) ad revenue.
[Update 25 November 2010: Facebook has rolled out its homepage link to Irish users. From November 25 Irish users are being prompted to " Drag this to your home button to see what's happening with friends as soon as you open your browser" to set Facebook as their brower's homepage]
This move is just another in an increasing number of skirmishes between Google and Facebook this year. Earlier this month Facebook announced it was to begin rolling out what it is calling its "GMail Killer," a messaging system that aggregates text messages, email, updates and comments into one stream.
With Facebook now accounting for one in every four U.S. page views and the majority of Google's revenue coming from display ads, Google is concerned that any push by Facebook to lure users will put a significant dent in its bottom line.
Coupled with Google's failure to make any headway into social networking, outside of India and South America, and with a string of recent failed social web applications (remember Wave and Buzz?) Google fears it will loose its prominent and lucrative position as the go-to page for users on the web.
Google's retort remains to be seen but rumours suggest that the search company is close to announcing the launch of Google.me, a social media aggregation application.