This year the Irish government will spend at least half a million Euro funding the development of Android and iOS apps for artistic and cultural institutions.
The majority of this money will come from the Cultural Tourism Technology fund which has allocated over €1 million for technology projects this year. Projects being funded include the Temple Bar Cultural Trust, The Chester Beatty Library, Dublin City Council, Wexford Opera and St. Patrick's Festival amongst others.
Click here for a larger image.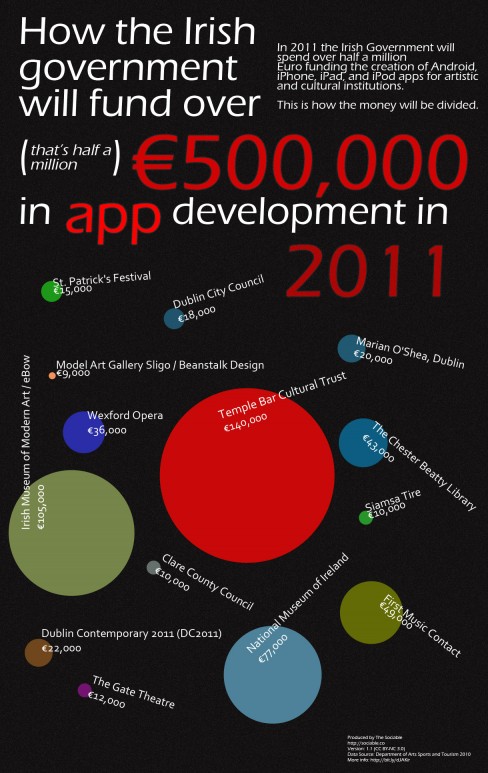 Temple Bar Cultural Trust will receive the largest slice of the cake with €140,000 for the development of a "virtual tour of hidden creative Dublin" for Smartphones and the web.
The Irish Museum of Modern Art will receive €105,000 for the development of an online museum with 360º 3D tour and the development of a mobile version of their website. This will be developed by eBow.
The National Museum of Ireland will receive €77,000 to create an audio guide to Treasury Department in Kildare Street in six languages for mobile devices.
First Music Contact will be given €49,000 to update their website and expand onto mobile devices. First Music Contact's Breaking Tunes is an Arts Council funded projects that highlights new Irish music talent to the recoding industry and public.
The Chester Beatty Library will use its grant of €43,000 to create an iOS app that will allow users to explore the Library's collection. It will also redevelop its website for mobile devices and create an online intercultural learning centre .
Wexford Opera's €36,000 funding will be put to the creation of mobile version of its website and the development of a smartphone app for the Wexford Opera House and Wexford Festivals.
Dublin Contemporary 2011 (DC2011), a city-wide series of arts exhibitions, will use its €22,000 to launch the event's web presences. This will include a website and "complimentary platforms [that use] Web 2.0 technologies." They will also develop an iOS application. The inaugural Dublin Contemporary will take place from September 6th and October 31st, 2011
Marian O'Shea used her €20,000 grant to fund the creations of the iSpySculpture app, a virtual tour of 50 of Dublin City's most famous public art pieces.
Dublin City Council was given €18,000 for the creation of a free iOS and Android app to promote the life and works of poet Patrick Kavanagh.
Ireland's St. Patrick's Festival will use its €15,000 grant to redevelop its website, and create an iOS app for use during the festival this March.
The Gate Theatre's €12,000 grant will be put to the development of an iPhone app designed to promote new productions and allow theatre goers to purchase tickets.
Siamsa Tire, yhe National Folk Theatre in Tralee has been awarded €10,000 to create a free iOS app to promote the organisation. The app will also connect to other cultural institutions.
Clare County Council will use its grant of €10,00 to create an iOS based tour of the county's ecclesiastical sites. A version of the tour will also be developed for their website.
Model Art Gallery in Sligo has been given €9,000 for the creation of a Google Earth-based tour of the gallery for the web, Android and iOS. The app will be developed by Beanstalk Design.
The Cultural Tourism Technology fund was announced in November with the first round of apps to be released this year.