While most of the Irish diaspora throughout the world is slamming down Guinness and Jameson today, researchers have come up with a way to detect when a user is Tweeting drunk, so they should be having a field day today.
So, while you're loading up that next Irish Car Bomb full of Powers, Baileys, and Ale and are about to send out that Tweet that you're sick and can't come into the office, you might want to pay attention here — that is if you are coherent enough to read at this point as it's already past 1PM in NY, and chances are you're already three sheets to the wind.
Research at the University of Rochester, NY have developed an algorithm that uses machine learning that acts as a sort of social media breathalyzer to identify drunk Tweeting.
"In this paper, we develop new machine learning based methods for fine-grained localization of activities and home locations from Twitter data," the report reads. "We apply these methods to discover and compare alcohol consumption patterns in a large urban area, New York City, and a more suburban and rural area, Monroe County."
The methods of alcohol detection followed a basic "yes" or "no" survey to the following questions:
Q1: Does the tweet make any reference to drinking alcoholic beverages?
Q2: if so, is the tweet about the tweeter him or herself drinking alcoholic beverages?
Q3: if so, is it likely that the tweet was sent at the time and place the tweeter was drinking alcoholic beverages?
According to researcher and first year PhD student, Nabil Hossain, project "Twitter-GeoDrink," can distinguish tweets at fine-grain, at the following levels of granularities:
discussions of drinking,
the tweeter drinking,
the tweeter drinking while tweeting
The report concluded that "combined with home-detection technology for Twitter users, we can also answer questions such as where drinkers live, where people go to drink, which places are drinking hotspots, when people drink at home vs. not at home, etc."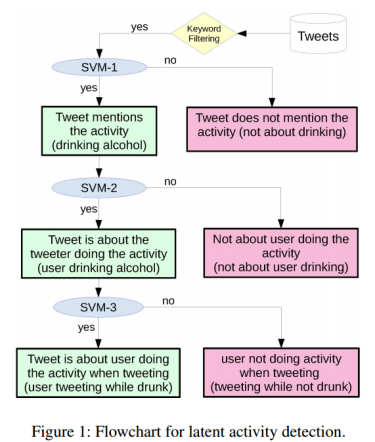 Identifying key words for finding out whether someone is bombed out of their gourds is another way of detecting smashed Tweets; however, they can be inappropriate and quite comical, and they can be found within the report.
Happy St. Patrick's Day!