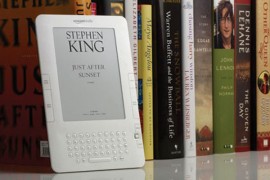 Things may be set to get very interesting in the world of e-book wars as Amazon is set to demo its Kindle for the web product later today. Google announced the launch of Google eBookstore yesterday, now Amazon is set to demo new competitive features to its Kindle product today.
One of the main competitive advantages Google eBookstore was thought to have over Amazon has just been removed. Books from Google eBookstore are device independent, whereas digital books from Amazon were previously confined to reading on Kindle devices only. Now according to Computerworld, Amazon plans to demonstrate Kindle for the web later today – a new service that will "enable users to read full books in the browser and any Website to become a bookstore offering Kindle books."
The service will be very similar to Google eBookstore. Readers can purchase e-books from Amazon's own website, or from independent book-seller's websites, and read these on virtually any device that has a web browser. Independent book-sellers would share an undisclosed percentage of all book sales, with Amazon and book publishers taking the rest.
It seems that the product is not yet ready for public release but some believe it could be officially launched as early as January of next year. Amazon has been a well established e-book seller for years now, so could now have a distinct competitive advantage over Google with this latest news.