Social media has allowed us to share an increasing amount of information and bring us closer to those we are connected with. One of the most popular trends on social media is Geotagging, which allows us to share our experiences with an exact geographical position attached. For businesses, the ability to share your exact location has become a game changer. In fact, it is proven that posts with location have 79% more engagement than those without.
But this is just one of the many steps a business can take to truly engage with their local audience, resulting in a much higher level of engagement overall. For the Danish startup Post Office Social, helping companies to appeal to their local audiences, no matter their size, is at the very core of its business model and is currently showing very promising results.
To get a better idea of the company and how they operate, we spoke with Post Office Social co-founder, Peter Bundgaard.
Your offering appears to be very unique and novel. How would you describe it in its simplest form to a novice of the marketing/ social media world? Or you can perhaps describe it as an analogy if you prefer?
Post Office Social helps multi-location companies realize their full marketing potential by making the staff in each local unit able to create great social media content. Right now we solely support Facebook, but we plan to support other platforms as well.
Post Office Social is a SaaS. Our clients (think Whole Foods) use the app to distribute partially finished content (a Facebook post with image and text) from the marketing department to each local entity (the local Whole Foods staff) for them to then finish by adding their individual local touch. That means they can make changes to the text and create their own images/videos if they please, using their local insight and the tools within the Post Office app.
Why do all this?
Because the local adjustment of the generic content from marketing makes the content more authentic and thus better at resonating with local customer groups.
All the combined local stores in a chain make for a giant reach and marketing power.
We see an increase in organic reach and engagement on up to 25X (2500%) when stores use Post Office. Simply because it makes it easier for them to make something that works.
The stores have tremendous potential in connecting with local customers and the communication is allowed to be more tactical than if the content is published from one central brand page. If I follow a local Whole Foods, I want to know what specific products are on offer.
Can you give an example of a company or case study that has really benefited from Post Office Social?
We help a lot of big companies in Denmark. Toyota and Carlsberg are good examples of brands which are also known in the rest of the world. For Toyota, they use Post Office to activate their local car dealers. Almost every dealer in Denmark uses Post Office which has increased their total reach and engagement rates significantly, as well as their time to market. And after all, Toyota has seen an increase in sales.
Are there others out there doing what you do, and if so, how do you differentiate yourself from them?
The short answer is NO, but we still think that we got a few competitors. You can divide them into to groups:
1) Social media management tools.
2) Other tools for communication.
In the first group, we have Hootsuite and the like. These tools are designed for larger teams to work efficiently around listening, monitoring, analytics and customer management across channels. The tools can generate great value if used properly but are complicated to use as well as expensive. They are rarely implemented in full and to use them you need to be a pro social media marketeer.
In the second group, we find Facebook itself, Email, Dropbox, Google Drive and so forth. Companies already use tools to distribute content as we advocate. It's just not very efficient. There's very little local adaptation of content distributed via the above because there are too many steps until the content goes on to the Facebook page. Besides this, when using the above tools there is very little chance that you will have a satisfying overview of the adaptation and the performance.
How are we different?
Post Office is a niche tool, focused solely on helping local entities create better content for their Facebook page (more platforms are to come)
Post Office is a platform that is made to be used primarily by the local employees as opposed to almost all of the tools you would find in group 1. This means that our tool is extremely simple and easy to use.
Post Office is linked with the Facebook API so that all it takes for a Whole Foods employee to review and post content onto their Facebook page – is a single click.
Post Office collects data on the extent to which content created by HQ is used by local staff – and how it performs. This means that Toyota can get a full overview of their reach across all the local platforms even though the generic piece of content has been adapted and now exists in many different shapes across pages.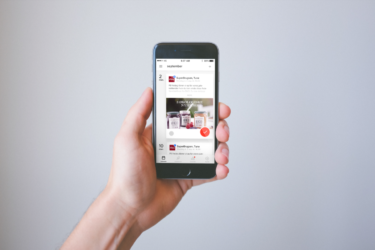 What was the main motivator to solve this problem, for example, did it arise from a personal experience or something you recognized others having issues with?
Carlsberg had a problem delivering branded content for their bars during the UEFA European Championship 2016 (Soccer). Almost all the bars had a facebook page, but they had a had time producing good content. Carlsberg had the content, but if they sent it to the bars within a dropbox link, the bars didn't use it, and Carlsberg couldn't track any data. It was simply too much a struggle for the bar owner to open the files and upload it to Facebook themselves.
That was our call. We invented a simple app (Post Office) where the bar owner could receive, edit and schedule content with just a few clicks. It was very successful and almost all the bars that participated in the campaign used all the content and got a lot of new activity on their facebook page.
Thereafter we looked towards retail and saw that a lot of companies had a hard time controlling their many local facebook pages. So we added a few features to cover their needs. And that was the beginning of our company.
What is the main focus for Post Office Social over the next 6 months?
Our overall goal is to become the biggest marketplace for personal branded content. But for the next 6 months, our focus is to get awareness and up our annual recurring revenue from subscriptions to our service. Basically, get more clients and grow.
Have you had any constructive feedback from customers, and if so what are they interested in seeing?
In general, our customers are very happy and active. But we are working on a few things
– More advanced analytics for our admins.
– A weekly top 10 to inspire the local dealers with content from some of the other dealers (Gamification)
– Other social media channels (Instagram, LinkedIn, etc.)
Disclosure: This article includes a client of an Espacio portfolio company