As a result of a partnership with New Zealand-based Brave New Coin, Nasdaq is adding Bitcoin (BTC) and Ethereum (ETH) indices to its global data service later this month.
The announcement was made on nasdaqtrader.com on Monday, with an effective commencement date of February 25.  The brief statement reads:
"Nasdaq, through its data dissemination relationship with Brave New Coin, will send real-time Bitcoin and Ethereum index level information on the Nasdaq Global Index Data Service (GIDS)."
The indexes will be listed as "Bitcoin Liquid Index (BLX)" and the "Ethereum Liquid Index (ELX)".  Each will provide spot or reference rates based upon 1 BTC or 1 ETH in real time, updated every 30 seconds.  Prices will be quoted in US dollars and will be based on liquid parts of the market (there may be outlying market prices which are not backed with any depth of liquidity).
Both indices are currently listed on bravenewcoin.com and reference underlying pricing data from leading exchanges such as Kraken, Bitfinex, Coinbase, Bitstamp, Poloniex and Gemini.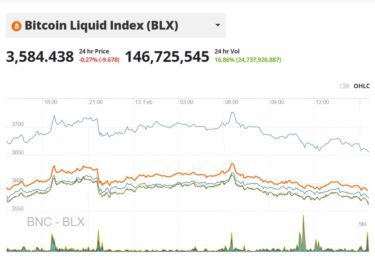 Nasdaq's announcement also states:
"Both indices are calculated using a methodology that has been independently audited against key IOSCO [International Organization of Securities Commissions] principles.  The BLX is one of the most widely-referenced BTC indices among crypto traders and has been calculated back to 2010.  Likewise, the ELX has been calculated back to 2014."
Nasdaq's GIDS system is comprehensive and the BTC and ETH indexes will be added to a network of over 40,000 indexes.  It seems that week on week, the company is venturing further into the crypto space.  Prior to her participation at the World Economic Forum in Davos last month, Nasdaq CEO Adena Friedman was upbeat in her assessment of digital currencies, as indicated in a LinkedIn post.  She stated:
"We believe digital currencies will have a role in the future.  The extent of its impact will depend on the evolution of regulation and broader institutional adoption."
Earlier in 2018, Friedman said that "Nasdaq would consider becoming a crypto exchange over time".  Its conventional exchange currently hosts a number of blockchain focused exchange traded funds (ETF's), together with public companies it lists which are focused on the technology.  The company has also been active in securing a number of blockchain related patents in recent times.
Last November, it emerged that the American stock exchange – the second largest stock exchange in the world – intends to launch a Bitcoin futures product.  It's understood that the company is in talks with the Commodities and Futures Trading Commission (CFTC) with a view towards gaining regulatory approval for the operation of a regulatory compliant cryptocurrency futures market.
In December it participated in a Series B funding round for cryptocurrency exchange, ErisX.  Nasdaq were joined by Bitmain, Fidelity Investments, Consensys and others in raising $27.5 million in funding.  ErisX intends to operate an intermediary-friendly, CFTC regulated futures exchange.
This development is indicative of the slow but steady move towards cryptocurrency by the conventional players in the financial markets.  Many of Nasdaq's competitors have also been involving themselves with cryptocurrency and blockchain technology over recent months.  The tokenization of equity stocks is also an emerging field.  On this basis, we're likely to see further developments along these lines in 2019, with the lines between the nascent digital assets/currencies markets and conventional markets blurring further.