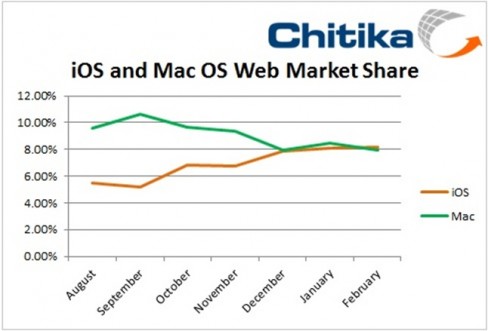 Overall internet usage on Apple's mobile products may have exceeded that of its desktop products for the first time, that's according to web market share data from analytics firm Chitika.
The overall percentage of internet usage on iOS devices – the iPhone, iPad and iPod Touch – may have actually eclipsed that of Apple products running its desktop operating system, OS X – namely all forms of MacBook, Mac mini, iMac and Mac Pro.
In 2011, Apple sold around 93.2 million iPhones and over 40 million iPads. In the fourth quarter alone, Apple sold 17 million iPhones and 11 million iPads, but only 4.89 million Macs. As it stands, iOS currently accounts for 8.15% of all web traffic, while OS X now accounts for 7.96%.
A number of factors may be a play here. The record numbers of iOS device sales may be ebbing away at Mac OS X's web traffic share, as would strong sales of other mobile devices, most notably Android. There will eventually come a time when overall mobile web traffic overtakes desktop web traffic.
However, StatCounter data doesn't agree with Chitika. As of January 2012, Mac OS X web share stood at 7.33%, while iOS web share was significantly less at 1.71%. The vast difference in data makes it hard to confidently rely on either analysis.