Back before the iPhone, social media, and responsive development CKSK (@CKSK | Facebook) established its digital agency in the center of Dublin City. Six years later, and with offices in Poland, The Netherlands, and the US the company has become one of the most prominent international digital agencies operating from Ireland.
Over the past six years much has changed for CKSK and the digital world – smartphones, tablets and social media have opened new opportunities to developers and programmers and created new challenges for designers.

We usually view these developments in terms of their technologies but how have these changes influenced the design process? How have designers adapted to more varied screen sizes and fragmented user platforms?
We spoke to CKSK's Innovation Director Ben Hindmarch, and Deputy Creative Director, Carlos Garcia, to find out. Ben and Carlos tell us that while smaller screen sizes encourage designers to prioritise what they deliver to the user, greater screen resolutions allow them to provide us with more beautiful looking sites and apps.
Q: How have smartdevices such as smartphones and tablets changed your designs?
Carlos Garcia: Designing for a smaller form factor means that we have to be selective with the type and amount of information that is displayed. These restrictions can give us great insights into what is really important for the user.
Ben Hindmarch We approach our work quite differently from even just two years ago. The rise of the mobile web has meant we design a lot of responsive sites, so the design will be put together so it can adjust for different screen sizes.
Smartphones and tablets have given us a lot more opportunities to interact with the consumer. The mobile device brings digital out of the home and office. We can utilise geolocation information, social media and other built-in phone features to deliver ideas that just weren't feasible a short time ago.
Q: Are these devices design friendly?
Carlos Garcia: We've been designing for mobile devices since the early days of CKSK so it's second nature to us now. Having a team of in-house developers doesn't hurt either. Displays like the iPhone's Retina makes life that bit easier because you don't have to cram all your content into such a small resolution. We're now seeing apps and mobile sites with stunning visuals that give an amazing user experience.
Rolling out an app on multiple platforms and devices means different designs for each format. Sometimes features have to be omitted from one version and content needs be adapted. Being aware of these differences is key to designing a seamless experience, regardless of the device you are using.
Ben Hindmarch The design considerations have changed not only for the smaller screen, but also for how mobile devices are used online. Desktop users will happily explore content. The same user on a mobile device will be looking for something specific and won't be interested in being distracted from that task. They're completely different mentalities.
Responsive design brings the technology further into the design considerations
Q: How has responsive design changed your creative processes?
Carlos Garcia: It means a new set of challenges, something all designers love. We're not just designing a static page; we're creating fluid, dynamic sites that need to look and feel great on every device.
Ben Hindmarch The process has completely changed. Until now a lot of agencies have been able to use a traditional waterfall development process where the project moves from designer to developer like a production line. Because responsive design brings the technology further into the design considerations we find our collaborative approach is really paying dividends. We bring developers into the project as soon as we have a creative brief.
Q: How much influence does the audience have in your design processes?
Ben Hindmarch UX design is about predicting user behaviour and enabling them to achieve their goals on the site. The insights we've gained from our analytics are highly valued and helped us increase the effectiveness of our designs. There's something to learn from every project we do. After a major project we hold a debrief session with the team to talk through the production process and the site analytics. We will often implement improvements to the site based on the debrief.
Q: As a creative agency you don't only design the look-and-feel of campaigns but also how users engage with them- tell us how this worked for the Resistance 3 Launch Campaign.
Carlos Garcia: As with all of our projects, we start with the consumer. We look into their behaviours and digital touch points throughout the day to give them an experience that we know they'll love. For the Resistance 3 launch, we knew that our PlayStation fans were heavy mobile and Facebook users. We also knew that they were competitive. Very competitive.
We developed a game mechanic based on the story of the Resistance, helped by fantastic artwork from Olly Moss. Print, POS and digital display challenged PlayStation's fans to check in on their smartphone using the mobile site. Each check in deployed troops to your location to defeat the nationwide Chimera invasion.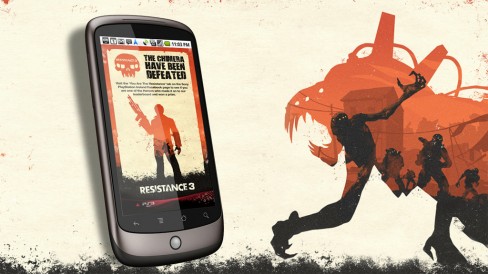 On the Facebook tab, users could track their progress on the real-time leader board and learn more about the upcoming PS3 release to earn extra intel points. The designs were adapted around the game mechanic to provide a really immersive experience for the user.
In the 3 weeks the campaign was live, PlayStation saw 2,000 new likes and we clocked up more than 25,000 check ins. People were actually complaining because they were losing sleep as a result of the competition, frantically checking into as many locations as they could. We did mention that they were competitive.
Q: What technologies would you/are you looking forward to producing designs for in the future (next gen gaming consoles, browser apps, interactive ads, Google Glasses etc)?
Ben Hindmarch Personally I'm looking forward to mobile browsers enabling developers to create sites with the same features as native apps. It sounds quite a bland ambition, but it'll mean we can create some really great things on devices that are already in consumers' hands.
Also it's a solid ambition: I don't think there's much point planning ideas for Google Glasses until we can give the product a test drive and see what consumers think of it. Digital agencies are increasingly involved with new consumer technologies as digital has expanded beyond the desktop. We now often find ourselves talking directly to hardware manufacturers about new requirements for their products from our clients.
Carlos Garcia: It's predictable, but I'm expecting big things with the iPhone 5 and iOS 6. 4G and NFC would really help with making a digital wallet a reality. The new Retina Macbook Pro is on my wish list too, as long as the websites are responsive to take advantage of all those pixels. Naturally we're all waiting on the next PlayStation 4 but until then we've got a few Vitas in the office to keep ourselves busy.