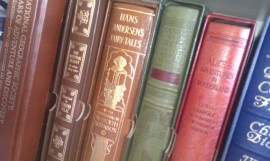 Online retailers Amazon, Barnes and Noble, and Eason are selling books whose contents have been taken directly from Wikipedia.
Published by companies called AlphaScript Publishing and BetaScript Publishing, the books can sell from anywhere between €20 and €150 and cover topics from the history of Star Wars to instructions on roasting coffee.
At the time of writing Amazon lists over 300,000 books by the publishers, Eason list over 4,700 books and Barnes and Noble list 117,000 titles.  The publishers claims to release over 10,000 titles a year.
The practice of publishing Wikipedia articles is not illegal as much of Wikipedia's content is published under a Creative Commons Licence which allows readers to "share and remix" provided they attribute the content to its author and provide notice that the content is subject to a CC licence.
Concerns have been raised that book buyers are not being given clear advisories that the books' contents have been sourced from Wikipedia.
While covers for the books contain the legend, "High Quality content by WIKIPEDIA articles! [sic]" only a handful of Amazon's 300,000 product description  pages for AlphaScript and BetaScript books are accompanied by an image of the books' covers.  We could not find any pages which officially attributed the content to Wikipedia.
Similarly, Eason's online catalogue of books did not show any images of the books' covers or clear advisories that the content came from Wikipedia.
Only Barnes and Noble's website alerted readers that content was sourced from Wikipedia.
Last week we wrote to Eason asking if they believed shoppers were adequately informed that the content of these books has been taken from Wikipedia and if they believed that price tags of between €20 and €50 were justified; we did not receive a response.
Customers who have purchased such books have been vocal about their criticism of online retailers, one purchaser on Amazon said;
Nothing in the Amazon description of this book tells you it is [a] printing of otherwise free Wikipedia articles. Why pay so much money for something you can print off for free — and be assured you have the very latest information? The size of the book is so small the print is difficult to read. And, diagrams and the like are even more difficult to see clearly.
On their website AlphaScript Publishing, which describes itself as "one of the leading publishing houses of academic research", emphasises that Wikipedia's copyleft policies allow for such reproductions and each published book notifies the reader of the content's source. The company also argues that the quality of Wikipedia's articles justifies their reproduction in a printed format.
These are amongst a growing number of publishers who are "curating" content from the web and publishing these on demand. Production of such books has been made possible due to advances in publish-on-demand services which allow for copies of books to be printed and bound after an order has been made.