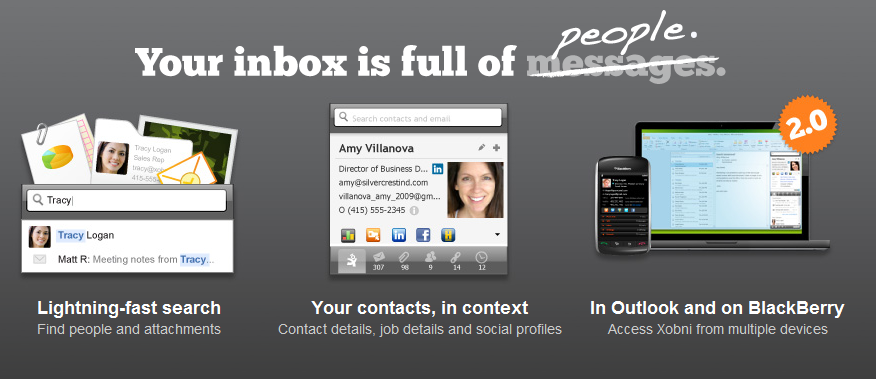 When Xobni launched for Outlook in 2008 the social email filtering application was quite rightly hailed with glowing reviews from the tech press and quickly developed an avid fanbase, not least within NASA, The U.S Army, and Microsoft who are some of its most prominent users.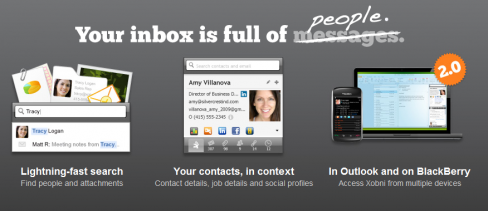 So, hardcore Gmail users were especially excited to hear that the application would soon be launching for Google's email service. Today, Xobni released some beta accounts to the public.
For our Mac and non-Outlook users Xobni (Zob-nee) is an application which indexes and filters emails for Outlook, Blackberry and now Gmail. It collects and analyses contact and email information to generate "rich profiles for every person you've ever communicated with (even those cc'ed in emails.) These profiles contain relationship statistics, contact information, threaded conversations, shared attachments, and information on that contact pulled from social networks."
Basically, it does for your address book what you should but don't really have the time to do.
Like the Outlook and Blackberry apps the Gmail application analyses your emails and address book and provides information about the people you email the most.
When you open an email the widget displays information about the sender, including social networking statuses, previous emails, and statistics on the number of emails sent and received with that contact. Nice features include fast search within labels, quick access to contact information, and its general speed; in our test the beta application was able to search and graph one label of 3,000 emails in seconds.
Installation
Although Xobni Gmail is a cloud app it does require you to download a plugin to get it working. At the moment this is only available for Chrome and Firefox, although Android, iOS, and other platforms are coming down the line. The browser plugin acts as a bridge between Gmail's and Xobni's servers and connecting the two is simple and fast.
To use Xobni you are required to log into Gmail and also log into the Xobni widget. On first load the widget will take you to a Gmail page asking you to confirm what you are happy with Xobni having access to your email address, emails, contact book, and Google Calendar (more on this below).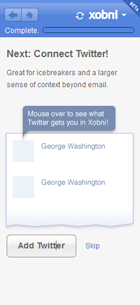 If you allow access your inbox Xobni will then index your Gmail account, this can take a while depending on the number of emails you have, but once this is done Xobni is lightening fast. Finally Xobni will then ask you if you want to also connect your Twitter, Facebook, or LinkedIn accounts. You can also do this for each of your contacts.

It is this ability to connect your contacts' social profiles and their emails that makes Xobni such a powerful tool, but also one that will raise plenty of privacy concerns.

Thoughts
There is no doubt that Xobni, along with Boomerang and Xoho, is one of the best Gmail apps available but, as with these others, it is difficult to get over the idea that you are providing external companies access to your inbox. As Google's mishandled launch of Gmail Buzz showed, people (and corporations) want and expect their email content to be private. And even when it comes to social networks people want to control their content – just last month Twitter disallowed third party applications from accessing users' Direct Messages without getting express permission from the user.

There is no doubt that Xobni takes privacy very seriously but would you want a third party application indexing your Gmail emails, contacts and Calendar events? If you are using Google Apps for work would your system administrator be happy with the amount of access Xobni wants to your inbox.

If you don't mind giving access to your inbox to another company then you still have to install the plugin on all the machines you use. For us that means multiple instillations on the office computers' versions of Firefox and Chrome and on our home computers' browsers.

Privacy concerns aside it may already be too late, Google is rolling out its social layer to Gmail now. The Gmail People Widget (which to be fair essentially a Xobni-clone) offers similar features without the need to allow external applications access your data.

Xobni is a great application and a trustworthy company but it may simply be the case that using it requires a leap of faith on the users' part that many may not be willing to make.

<!-comments-button-->