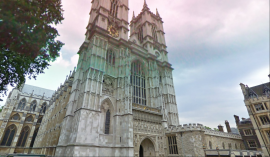 Do you want to take Kate Middleton down the aisle (or the nave if you want to be pedantic)? Well thanks to the wonders of modern technology you can. Westminster Abbey, the location for the 29 April wedding, has released Android, iPhone and iPad apps that allow you to do just that.
The apps feature detailed plans of the Abbey including a Google StreetView-style tour of the building. As you 'walk' through the building the app displays historical images and photographs as well as contextual information about interior.
Westminster Abbey has released a video demonstrating the app.

The iPhone, Android and iPad apps join a growing number of other pieces of tat to be released ahead of the Royal Wedding. So far, if you are so inclined you can enjoy some royal pez's, iPhone covers and even some Wills and Kate condoms (with the tag line "Lie back and think of England").