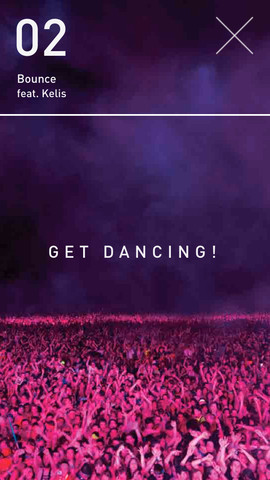 Songster Calvin Harris has released this innovative iOS and Android app that lets you listen to this latest album, 18 Months (Android | Apple) for free. That's right you can listen to the entire album without having to spend a cent…But there is one catch.
You have to keep moving.
To play any track from the album you have to keep dancing – that's right the app will only activate as long as you're dancing (or at least shaking your phone a lot – but we think that's cheating).  With that said there is some sound logic behind the app's creations.  It has been designed to fit into the lifestyles of its primary audience – as the developers say;
"[The app is] the perfect partner for a run or gym session (or a personal rave!), you have to keep your iPhone [or Android] moving to keep the track playing. With secret tracks and content to unlock, it's a whole new way to experience one of the biggest albums of the year"
The dance-to-play system was developed by the appropriately named We Make Awesome Sh.it (@wemakeawesomesh | Facebook). And this isn't the first big hitter coming from the Cardiff based company, which has also worked on campaigns by Microsoft and Intel.
We just have one word of advice – keep a tight hold on your phone as you dance, we don't want any Wii-type injuries.