Here in Ireland we will be celebrating St. Patrick's Day in the usual way (we'll let you guess what that is) but if you can't make it to Dublin for the St. Patrick's Day Parade then you can take your frustration out with the Angry Birds St. Patrick's Day special edition.
Rovio, the makers of the addictive, and frankly irritating, smartphone game have released a special St. Patrick's Day themed version. This seasonal edition of the game is just as annoying as the regular version but with some added diddily-eye Irish music, a hell of a lot of shamrocks and more pots o' gold than the Irish banking system would know what do with (not that they know what to do with money anyway).
The gameplay is the same but this time the thieving pigs are now even more neon green and both the pigs and birds are styled up for the occasion with festive Leprechaun hats.
The release of this seasonal Angry Birds editions is part of Rovio's strategy of building the Angry Birds brand on a rolling basis, with a large number of small releases (Have a look at the great feature in this month's Wired Magazine).   This looks like it is working for them, speaking at South by Southwest this month Peter Vesterbacka, Rovio's marketing executive, announced that Angry Birds had passed its 100 millionth download.  With Android now catching up on iPhone for downloads.
You can download Angry Birds' St. Patrick's Day special edition for Android here or through this QR code.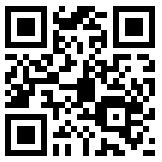 If you are looking for something more informative this Paddy's Day have a look at the official St Patrick's Day iPhone and Android apps.