Hacker group Anonymous plan to stage a 24-hour sit-in protest this Saturday April 16 in Sony stores worldwide. The offline protest has been organised in response to Sony's recently introduced restrictions on custom software that users sometimes run on their console and lawsuits taken against such Sony PlayStation 3 modifiers.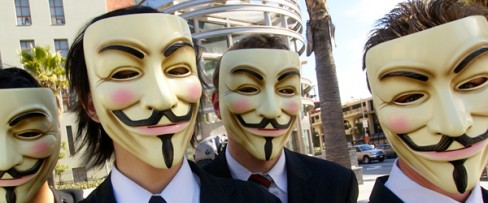 The group have setup a Facebook event for their protest with almost 1,400 pledging their attendance so far. A statement on the event page titled Operation SONY reads,
"Should you go to jail for making your PS3 run your own programs? iPhone jailbreaker George Hotz, or Geohot, altered the Sony Playstation 3 console to run homebrew applications. Sony then hit him with lawsuit after lawsuit.

"Let's not allow Sony to commit this injustice. It's time to get pissed OFF not pissed ON. On the 16th of April, go to your nearest Sony outlet and protest! Bring your friends. Be pissed. Raise some noise. Together, we shall make History."
On Monday last, Anonymous began a DDoS attack on the PlayStation Network rendering it unusable for much of the day. The attack was suspended shortly afterward when users complained that the attack was doing more harm than good.
But what do Anonymous hope to gain from their pursuits? Anonymous want PS3 owners to be able to modify and install custom software on their own consoles. While some of this software may be legitimate, Sony are worried that custom programmes may facilitate the use of pirated games and other illegalities on the PS3 console.
Whether Anonymous can progress from successful online activities and campaigns to offline protests in reasonable numbers with accustomed renown remains to be seen.