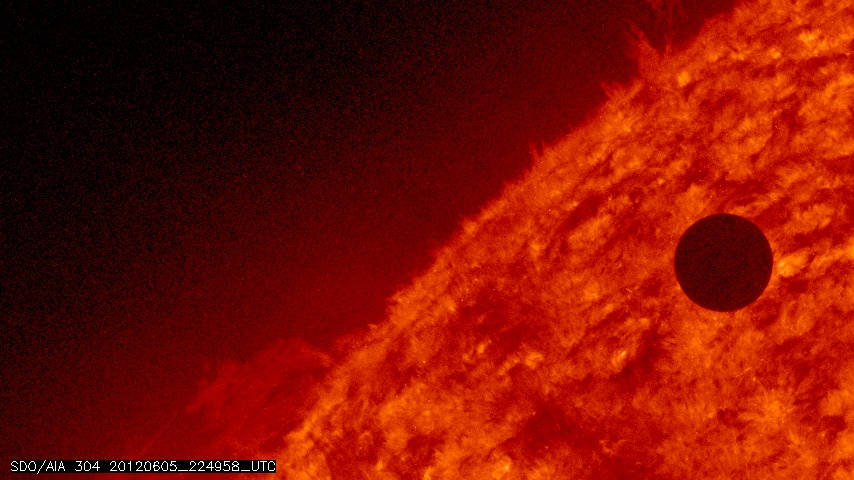 We don't want to be rude but you might think that you got some good photographs of the Transit of Venus yesterday but you definitely didn't get shots as good as this.
On June 5 NASA (@NASAGoddard) set its Solar Dynamics Observatory's (SDO) ultra-HD cameras to capture what it calls "the rarest predictable solar event," the progress of Venus between the Earth and the Sun. Not only were the images recorded in quality which is eight times better than standard HD it also recorded the transit in several wavelengths between extreme ultraviolet light and in the visible spectrum.

According to NASA;
The red colored sun is the 304 angstrom ultraviolet, the golden colored sun is 171 angstrom, the magenta sun is 1700 angstrom, and the orange sun is filtered visible light. 304 and 171 show the atmosphere of the sun, which does not appear in the visible part of the spectrum.
Usually the Solar Dynamics Observatory records and measures the motions and activities of solar flares and coronal mass ejections.  It's part of a wider mission by NASA, called "Living with a Star", which is designed to understand how the Sun affects the Earth.

The mission is run by NASA's Goddard Space Flight Center, which has released dozens of other high-quality images and videos of the transit.

These will be the last video of the Transit of Venus to be recorded in our lifetimes as the next one won't take place until 2117.  NASA says that the celestial event takes place in pairs, separated by eight years (the last transit was in 2004) every 105 or 121 years.  The last pair took place in 1874 and 1882, before that Captain Cook of the HMS Endeavour observed the transit in 1769 from what is now known as Point Venus, in Tahiti.

<!-comments-button-->