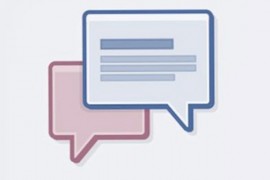 We've heard some reports in the last hour that the new Facebook "modern messaging system" has started rolling out to some users. We reported on the system in November of last year when it was first announced. Essentially it's a simple communication tool that integrates many different formats including email, chat, and SMS.
A tweet from one Irish Facebook user Damien Mulley (@damienmulley) declares that the new system is available to him:
Nice one. New Facebook messaging now working. [email protected] is me

— Damien Mulley (@damienmulley) January 15, 2011
According to Mulley there was an option to enable the new messaging system about an hour ago when he logged into his Facebook account. Although it hasn't yet been enabled in any of our personal accounts, we do expect this to happen pretty soon.
Tweet us if it's available to you. We'll update this page if any more news emerges.
[Update: January 11, 2011 18:36] We contacted Facebook directly and enquired about a specific roll out of the new Messages to Ireland and the UK. They did not confirm nor deny this, but stated:
"We are continuing to rollout Messages slowly over time"