It's been a mixed year for RSS; Twitter has systematically removed RSS links from its site while Facebook has re-included them for Fan pages.  Google+, on the other hand, has never included RSS feeds as part of user profiles, but there are ways of creating Google+ search and profile RSS feeds (although these are almost as frustrating as not having any feeds altogether).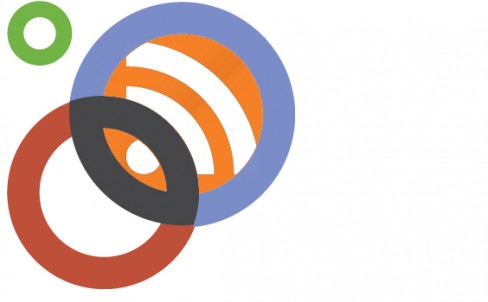 Creating a Google+ search RSS feed
As dramatic recent events in Libya have shown Google+ is emerging as a strong player in real-time news content but with no public RSS feed, staying on top of a story on Google+ can be difficult.  But there are ways to create Google+ search RSS feed, although we'll say from the start that neither of these are perfect.  The easiest way is to use Bing.
One of the standout features of Microsoft's search engine, Bing, is its ability to create RSS feeds for searches.   To make your Google+ search RSS feed use Bing's "site:" search operator, as well as your keyword, to search within plus.google.com.
For example; a search for public Google+ posts about Gaddafi  would look like this – gaddafi site:plus.google.com – to turn this into an RSS feed either click the RSS icon in your browser or paste this onto the end of the URL – &format=atom .
You can then add this address to your favourite RSS client, including Google Reader and Firefox's Live Bookmarks.
An alternative, although less reliable method, is to use Google Alerts.  With Google Alerts you can create email alerts or RSS feeds for any search terms.  If you use the same search term as above (gaddafi site:plus.google.com) Google Alerts will show you the latest results in Google's index.  This can then be converted into a Google Reader RSS feed – although in our experience if can take a while for this to start showing results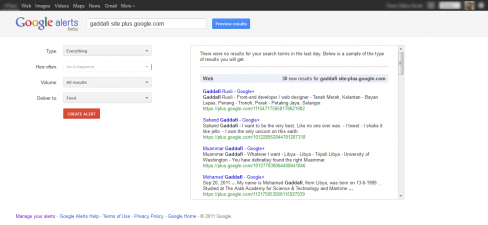 It is important to remember with this method that you are accessing the search engine's index of Google+ posts and not a live stream from Google+ itself.  If Bing or Google have not indexed a post it will not show in the RSS feed.
Google+ Profile RSS Feeds.
Creating an RSS feed for a Google+ user used to be easy; PlusFeed, was a free service which allowed you to input a Google+ id to generate a feed.  But this site closed on September 1 due to changes in Google's pricing structure.
Now if you want to create an RSS feed for a Google+ user you have to use the same method as above with some minor alterations.
Let's say you want to create an RSS feed for Larry Page.  First visit his profile and copy the address, plus.google.com/106189723444098348646/ (don't copy anything after the random set of digits).
Next go to Bing and search for – "Larry Page" site:plus.google.com/106189723444098348646/ – then add &format=rss to the end to create the RSS feed.  This can then be saved in Google Reader.
If you want to use Google Alerts you have to create the same search – "Larry Page" site:plus.google.com/106189723444098348646/ – and select "Deliver to Feed" in the last dropdown option.  Again Google Alerts can be slow and seems only to be useful when creating RSS feeds for high profile/well indexed users.
Although neither Bing RSS nor Google Alerts are perfect (although Bing is somewhat better) these methods do go some way to creating a useful RSS option for Google+ searches and profiles.