You mightn't have noticed, some of you mightn't even care, but t.co links have finally taken over Twitter.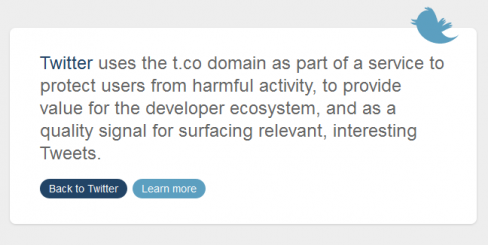 Since last week Twitter has been replacing standard bit.ly, owl.ly and other short urls with their own t.co links (even if they look like bit.ly or owl.ly links trust us they are t.co's in disguise).
Of course this would be great if Twitter had released its analytics system to the public already and we could see stats on our t.co links.  But that has not happened yet, so what do you do if you want to accurately measure the number of clicks your links received?
Easy, use bit.ly.
Or, more accurately, use bit.ly's j.mp link shortner.  j.mp links are the very same as bit.ly links (except, of course that they are two characters shorter), in fact both shorteners are so similar that you could take a standard bit.ly link such as the ones below and replace "bit.ly" with "j.mp" and you'll be taken to the same page, for example;
Here's how it works, Twitter will only convert links to t.co's if the links are over 20 characters long or are entered directly via Twitter's own website, or are contained in retweets (rather than a client like bit.ly or Hootsuite). So, by using bit.ly's j.mp links you can avoid converting links to t.co's and still have access to the same stats as you would previously have had with bit.ly.
1. To use j.mp log into bit.ly.
2. Under the text box is the character count with the words "Shorten with bit.ly." Click on the bit.ly text.
3. Select j.mp from the menu.
4. You will then get a message confirming your change.
5. All links will now be shortened to j.mp.
So, until Twitter's Analytics comes along this will standardise your posts' links and stats.