"Today, we're excited to announce three great new Nexus devices … in small, medium and large," that's how Google announced the launch of its family of Nexus devices today.
It wasn't the announcement that Google wanted to give their Nexus 4 and Nexus 10 devices but it was the best the company could do given the tight international, albeit limited, releases. Google was required to cancel an Apple-style launch event today due to Sandy – the 1,500 km (932.057 mi) wide Hurricane currently heading for New York City and the rest of the North Eastern US coast.
Google's announcement of the Nexus 4 smartphone and the Nexus 10 tablet completes the family of Google-branded smart devices, which it is hoping will take on Apple's iPad/iPad Mini/iPhone family
Nexus 4
The Nexus 4 smartphone will be made by LG and will come with a quad-core processor, a 320 pixel-per inch (ppi) 4.7" (11.9 cm) screen. This is just short of the iPhone 5's 326ppi but larger than its 4" (10cm) screen.
More interestingly the device comes with Photo Sphere – an app that connects to Google+ and allows users to create 360 degree, Google Street View-style panoramic photographs. Google says panoramas created with Photo Sphere can also be embedded in Google Maps.
https://www.youtube.com/watch?v=0poff-mHQ4Q#!
Along with Photo Sphere Google's latest smartphone comes with swype-style gesture typing and Miracast, if your TV is compatible.
Google Street View-style panorama created with a Nexus 4 camera

Google Street View-style panorama created with a Nexus 4 camera
Nexus 7 gets an update
Long suspected and much sought after Google's popular Nexus 7 tablet now comes in HSPA+ and 32GB flavours meaning it's compatible with hundreds of mobile networks.
Coming in at $299 the Nexus 7 32 GB cellular is $260 less expensive than the same spec iPad Mini. The equivalent Nexus 7 and iPad Minis without cellular access will cost you $249 and $429 respectively.
Google is also announcing an update to its Google Now service, which it launched with the original Nexus 7 device in the Summer.
"We designed Google Now to make life simpler by giving you the right information at just the right time in easy to read cards, before you even ask. And the feedback has been awesome. So today we're adding more cards that we hope you'll find useful. Flight information, restaurant reservations, hotel confirmations and shipping details—how often have you found yourself wading through your email to get this information at the last moment? So next time you book a table for dinner, you'll get a reminder with all the details without ever having to lift a finger. You'll also get cards for nearby attractions, interesting photo spots, movies times at nearby theaters or concerts by your favorite artists."
Nexus 10
Google is pitching its 10 inch Nexus tablet as the highest-resolution large tablet on the market. Google says the tablet weighs in at 10.055 inches (25.5397 cm) and 300 ppi. The Nexus 10 has been designed as a content consumption device, with stereo speakers and about a 9 hour battery.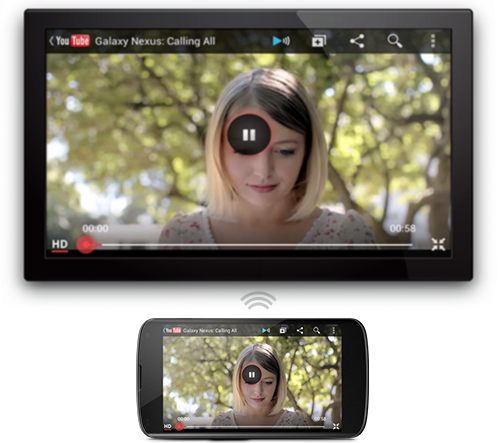 Google's big development is the ability share the tablet at home. The Nexus 10 tablet lets users create multiple profiles, meaning mom and dad can have access to a different set of apps from the kids.
Playing in Europe
Along with the release of the new devices on November 13 Google says that users in the U.K, France, Germany, Italy and Spain will have access to music on the Google Play store. These European users will also have access to Google's music matching services before users in the US or Canada;
"We'll scan your music collection and any song we match against the Google Play catalog will be automatically added to your online library without needing to upload it, saving you time. This will be available in Europe at launch on November 13 and is coming to the U.S. soon after. This will all be for free—free storage of your music, free matching, free syncing across your devices and free listening."
Nexus types
Nexus 4: 8GB for $299; 16GB for $349; available unlocked and without a contract on 11/13 on the Google Play store in the U.S., U.K., Australia, France, Germany, Spain and Canada. The 16GB version will also be available through T-Mobile for $199, with a 2-year contract (check here for more details).
Nexus 7: 16GB for $199 and 32GB for $249; available in the U.S., U.K., Australia, France, Germany, Spain, Canada and Japan, and also through our retail partners Gamestop, Office Depot, Office Max, Staples and Walmart.
Nexus 7 with 32GB and mobile data: $299 and unlocked, on sale 11/13 in the Google Play store in the U.S., U.K., Australia, France, Germany, Spain and Canada.
Nexus 10: 16GB for $399; 32GB for $499; available on 11/13 in the Google Play Store in the U.S., U.K., Australia, France, Germany, Spain, Canada and Japan.