As a growing economy, India is experiencing a surge in industrialization, and construction accidents are on the rise, which in turn is spurring a huge demand for prosthetics.
The Sociable up with Abhit K, Co-Founder at Social Hardware, which aims to replace costly overseas imports with locally manufactured prostheses, enabling non-profit organizations to help more people, faster, and at much lower cost than existing international supply chains.
To ensure that amputees receive the necessary support they need, Social Hardware provides amputees from rural communities with access to the physiotherapy and training required to effectively utilise a prosthetic hand in daily life.
Abhit K met his future co-founder Cameron Norris on reddit where both had responded to a request from a man who needed a prosthetic arm for his brother. Norris had a background in open source hardware and digital marketing for tech startups while Abhit had a background in biomechanics and the two hit it off after learning they were both working on prosthetics.
They met-up for the first time in Bangalore in 2016 and reached the finals of a hackathon, and realizing they had something big in the works that needed more research, pulled out of the competition to work on their project that would become Social Hardware.
At the end of 2016 they applied to the iCreate incubator and entered the 12-month incubation program in February, 2017.
"iCreate provided us with the financial and strategic support we needed to get our business off the ground," said Abhit.
"Additionally, the prosthesis is being designed using Autodesk Fusion 360 3D CAD software, which has made it incredibly easy to prepare prototype designs for 3D printing. We've also received direct support from Varun Heta of Autodesk, who specializes in strategic planning and technology development," he added.
Prosthetics Demand in India
With an emerging and developing economy, India is rapidly expanding its infrastructure, and with it comes major construction efforts. Unfortunately, this also means that accidents in the labor force are common, and the demand for prosthetics is increasing.
Read More: Inside Labouradda's plan to provide work for India's 437M unorganized labor force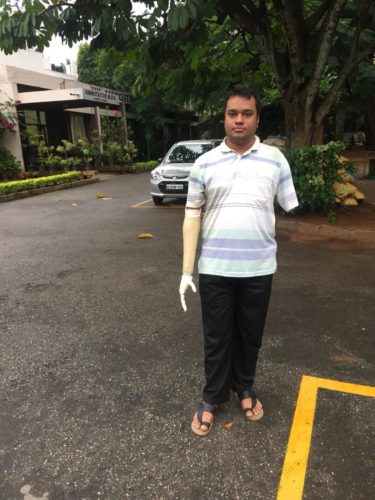 "India is an emerging economy and with that comes growth and industrialization; however, there is lack of monitoring and vetting in the hiring of laborers from the rural areas, which eventually lead to causalities and traumatic experiences for the labor force.
"There are many causes to it, such as lack of documentation (previous work experience, ID certificates), ignorance, lack of safety — at the construction sites, at the industrial sites, and so on. And casualties happen at that moment," Abhit explained.
Demand also plays out in the agricultural sector in India, where the need for prosthetics can also come from accidents, but more prevalent injuries have to do with the hazards of working in the fields and forests and those include snake bites.
"We met agricultural workers in the forest and they explained how they suffer a lot of snake bites, and because of this, some of them have even lost their hands in the agricultural fields," said Abhit.
"According to research by Dinesh Mohan from the Centre for Biomedical Engineering at the Indian Institute of Technology, India has over half a million amputees and tens of thousands are added to the Indian amputee population every year. The highest incidence rate of amputation occurs in rural areas, home to 70% of India's population, typically as a result of agricultural injuries."

Working with Rehabilitation Centers to Provide Free Prosthetics in India
Social Hardware has partnered with six rehabilitation centers across India where those in need of prosthetics can be evaluated for which type of prosthesis they need, along with the actual hardware.
"We have partnered with six rehabilitation centers, and we have done it very strategically, so basically we have these centers in the north region, northwest region, south region, northeast region, and so on, so that each of the regions specifically demonstrate the demographic representation of where they need the prosthetics and their requirements," Abhit tells The Sociable.
In this way Social Hardware can service all amputees from not just the big cities, but the rural areas as well.
Social Hardware's role at the rehabilitation centers is centered around:
The proper evaluation of each amputee
Beginning amputee rehabilitation
Providing the proper prostethic for each amputee
"We work in collaboration with these centers to provide a four-stage rehabilitation package. When an amputee is enrolled at one of the non-profit organizations we work with, we carry out a full evaluation of the amputee, which includes details of their injury," explained Abhit.
"Then we work with a physiotherapist to understand what sort of condition the amputee is presently in, and then an appropriate physiotherapy program is tailored for that individual.
"During the program, we collect and analyse data from the patient to ensure the most comfortable socket fitting is achieved."
Social Hardware Taps Blockbuster Movie Concept Artist
In order to make their prosthetics more life-like, the Social Hardware team scoured artwork online through platforms like Pinterest, where they came across the work of Furio Tedeschi.
It was only later that the founders realized that Tedeschi provides concept art for major motion pictures like Pacific Rim, the Transformers and Resident Evil movies, and the indie thriller A Quiet Place.
To understand why someone who works with Hollywood blockbusters would take on a project like Social Hardware, I reached out to Tedeschi who explained his motivation in helping amputees in need of prosthestics.
"It's a bit different from what I usually do, and it's been a cool experience so far," said Tedeschi.
"I usually work on movies and video games, and I thought this was something like more functional that can also help people, so we're coming up with a bunch of ideas on how to add attachments, tools, and stuff like that.
"I'm basically just focusing on the aesthetic, but I'm also suggesting ideas on how they can take that a little bit further."
Tedeschi said that for his concept art technique, "I usually sculpt it in the computer with a sculpting program, and I get a feel for the rough hand they need while obviously keeping all the restrictions in mind like where the joints are, how big the joints are, and where they need to attach, and I just basically do a sketch for them, and they tell me if I'm on the right track or not, and then I take it further."
When asked if there was much difference between designing concept art for movies and for prosthetics for Social Hardware, Tedeschi responded, "The only difference I suppose is that I'm taking it a little bit further and I have to keep in mind the electronics, which are more of a real-world thing as opposed to movies where you can kind of hide and fake a lot of stuff."
Solving a Unique Problem in India
Currently in India, programs exist that provide amputees with prosthetics, but they do not take into account certain factors that can only come from a proper evaluation of each individual.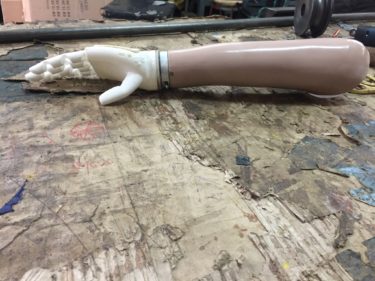 The common practice, for example, is if someone needs a prosthetic hand, that person is given a sort of one-size-fits all approach, which doesn't take into acount what type of prosthesis is needed (there are many types) or whether or not the prosthesis will cause additional pain on the body, or whether or not the person suffering was born without a limb or if they had some sort of accident, as their brains are wired differently in how they would respond to an artificial limb.
This is where Social Hardware's analysis and holistic approach of each patient is crucial for better agility and movement.
"Typically, a prosthesis is most suitable for those who have suffered a traumatic injury as they are already accustomed to using a biological hand," said Abhit.

"For those with congenital diseases, so people who were born with only part of their limbs, the rate of rehabilitation is much lower, as they have already spent years adapting to life without a hand."

In cases like these, an electronic prosthesis would not work for these individuals, because it typically leads to rejection as the person trying to use it becomes frustrated in not being able to use it.
Another important factor that comes out of the rehabilitation centers is determining which type of prosthesis works for people working in different areas.
"For a farmer, it needs to be more functionality-based, and for a person who's working a corporate job, it needs to be more aesthetic-based."
B2B2C Business Model
Social Hardware follows a corporate non-profit model, which is like a hybrid Business 2 Business 2 Consumer (B2B2C) model.
"We have optimized our operations model towards flexible but highly coordinated collaboration; once the latest design iteration for a new product has been completed, that design is then passed to our partner rehabilitation centres — as well as local manufacturers — for analysis and validation. We leave no stone left unturned before we even think about physical prototyping," said the co-founder.
As a business model, Social Hardware plans to sell its product to the non-profit organizations while helping them to raise money as well, and the end product is provided to the user free of cost.
"The user does not incur any cost, so basically we are trying to maintain the commercial aspect from our side as well as a social impact at a balanced scale.
"We create revenue by selling the product per unit cost, and at the same time, the end product is fitted onto the amputee, and the cost is not incurred to him or her," the Social Hardware co-founder added.