As the Tech4Climate program manager for Spain's only private, not for profit accelerator focused on social impact, Ship2B, Juan Ignacio Zaffora explains why he is excited about his latest batch of startups.
The Sociable caught up with Zaffora in Barcelona at the Techstars Startup Weekend Social Impact Edition last Sunday where the Ship2B Tech4Climate program director was a judge.
Ship2B Accelerators
We are the only private, not for profit accelerator in Spain, with a focus on social impact
Ship2B has both a private, not for profit accelerator consisting of labs for social impact, as well as an investment arm that is supported in part by the European Commission.
The accelerators under Ship2B include labs such as Tech4Climate, Tech4Health, and Tech4Social.
"At Ship2B we are looking for startups with sustainable business models, economically speaking, but we also need startups that can solve specific problems," says Zaffora.
"We have two parts. We have an accelerator, which is a not for profit accelerator. That is very important because we are the only private, not for profit accelerator in Spain, with a focus on social impact.
"So, the acceleration is a not for profit, and we also have an investment fund, which is like a spinoff from the foundation of acceleration. So, we're trying to develop this new funding. Two years ago we created a private investment fund focused on impact. So right now, we have 1 million euros more to invest, and this year we made an accord with the European investment fund and they are putting in three euros for every euro we are investing."
Upcoming Tech4Climate Startups with High Social Impact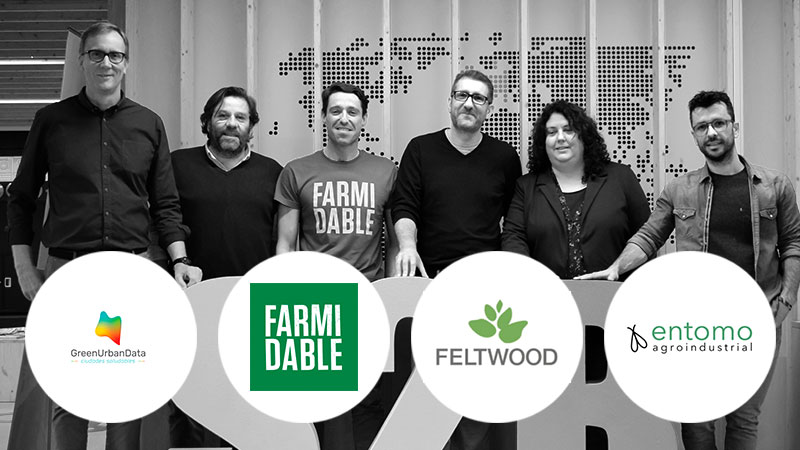 With a focus on solving problems related to climate, Zaffora sees huge potential in the four startups that are coming through the latest edition of the Tech4Climate accelerator.
"In this semester we have four startups," he says, adding, "one is solving the problem of sustainable food in global markets — helping the consumers to buy cheaper and in a sustainable way that reduces CO2 prints called Farmidable.
"The second one we are accelerating now, Feltwood, has developed materials made of 100% sustainable agricultural waste like taking old tomato plants and using that fiber to create material that can be made into materials to replace plastic and is three times more durable than plastic, using only sustainable agricultural waste and is 100% biodegradable. This startup has huge potential.
We are always looking for problems that need to be solved, and it's really important that those problems can be solved through startups
"The third one, Entomo, is using agricultural waste as well, but to create protein. It's a bit complex, but they put flies on the waste of plants, and with the larvae that grows, they can make a high-protein flour from the larvae that can be used for feeding animals like fish, pigs, or chickens. So, out of waste they are creating high-value proteins. The baby flies eat all the waste and they are transforming into high-quality protein. That's really cool, actually.
"The fourth one is called Green Urban Data and is using satellite images to analzye things like the capacity of fruit to absorb water, air and vegetation quality, and the permeability of the soil. For cities, you can have high-quality measurements of the city in real-time and it uses data to look back in time to see its evolution without any energy consumption because it uses satellite images that are public. And they can help cities create an environmental policy."
As for the future, will there be another Tech4 lab?
"Yes, we are always looking for problems that need to be solved, and it's really important that those problems can be solved through startups," says Zaffora.
"One of the labs we had last year was called Bridge2Work, and the problem we were trying to solve there was accessibility to jobs for young people. It's a very big social problem in Spain. This is a problem that is very hard for a startup to solve.
"You need more integration between companies, educational systems, government, and we transformed that lab that was focused on accelerating startups into a hybrid lab that is trying to co-create solutions between the partners of the lab. And in that lab we have the educational part of the government and we have a few companies and foundations that are focused on solving that problem."
How did the Ship2B labs all get started?
"For a little bit of history, first there was the accelerator focused on social impact in the areas of health, the environment, and for people with disabilities, and we divided this accelerator for startups depending on the stage they were in," says Zaffora.
"There's an early stage and a stage more focused on the go-to market strategy, and startups more focused on investment stage.
"We separated them because depending on the stage. We now have three programs. One for early stage. One for middle stage. And one for investment stage. And in all those stages we are mixing-in impact for different areas.
"We started to learn that startups need to be in the ecosystem depending on the industry and the impact that they are having. So last year we divided them by verticals, (i.e. Tech4Climate, Tech4Social, Tech4Health)."
Earlier this week, Seville-based Ciclogreen, the online platform that offers gifts and discounts for sustainable travel by bicycle, carpool, and public transport, closed a funding round of €245,000 led by Ship2B, after having gone through the Tech4Climate accelerator.