Want to know what links are garnering the most attention on the web right now? With bitly's new graduated lab experiment, Realtime, now you can.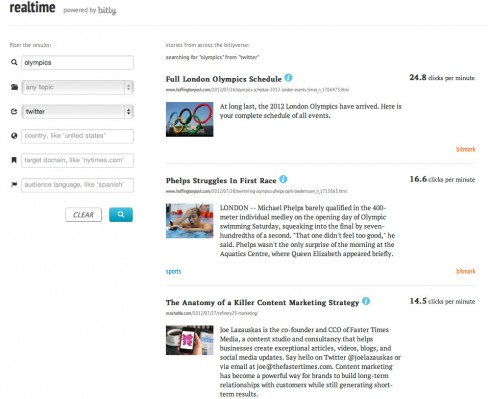 Bitly describe Realtime as an "internet attention ranking engine", a bitly labs experiment in private beta. For those of you that don't know, bitly is a URL shortening and analytics service used by many, including this site.
"Realtime is an internet attention ranking engine, giving you powerful tools for analyzing what the world is paying attention to right now. You can filter and explore activity on the social web by topics, phrases, domains, social networks and more."
So Realtime aggregates all links saved, shortened or shared using bitly, analyses the content of each link and then determines what links are receiving the most attention lby looking at click distributions to links at keyword, URL and story level – in realtime.
This way Realtime allows users to filter attentions streams by keyword, topic, source, country, domain and language.
It reminds us of Twitter and Google+ trends, but since bitly links are hugely popular across all the major social networks, Realtime may offer a more complete view of popular web content.