Google lead the way in raising awareness of the Stop Online Piracy Act (SOPA) and Protect Intellectual Property Act (PIPA) in Wednesday's online anti-SOPA, anti-PIPA protests.  Despite limiting its protest to the US and after being criticised for only placing a link, rather than a redesigned logo on its US homepage, just under a third of a million people tweeted links to Google's anti-SOPA/PIPA sub-site.
Wikipedia, which was also involved in Wednesday's protests, generated the second largest number of tweets at just over a quarter of a million.
Using the social search engine Topsy we looked at the number of tweets posted about Google's, Wikipedia's, WordPress's, Mozilla's, Reddit's, and ICanhasCheezBurger's anti SOPA/PIPA protests.  While we have to take Topsy's word that their data is accurate (it's likely these numbers under-represent the number of tweets) the numbers should give us a rough indication of the impact each site had on raising awareness of SOPA and PIPA.
These acts, should they become law, will give the US government and copyrights holders the ability to seek powerful court orders to prevent public access to these sites in the U.S.  The taking part in today's protests, and many others, feel these acts go too far and "pose a serious risk to our industry's continued track record of innovation and job-creation, as well as to our Nation's cybersecurity."
Here's how each site performed on Topsy.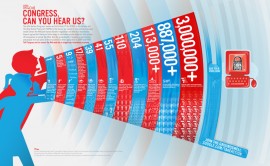 Google
Some had expected Google to issue a special Doodle against SOPA for the day, but the search company was more subtle in its approach.  Google's services remained active for the day but the company did place a link on its U.S. homepage which took the user to a sub-site called End Piracy, Not Liberty.
According to Topsy, the social media search engine recommended by Twitter to journalists, there were well over 290,000 tweets containing a link to Google's sub-site published – a strong showing for a site that only contained one social share button: for Google+.  It's also impressive when you consider that the link was only visible on Google's U.S search page, unlike Wikipedia's blackout, which brought down the organisation's entire English language site.
Looking at Google+ itself, Google reports that the page was +1'd over 100,000 times.  This creates an approximate combined total of over 390,000 public shares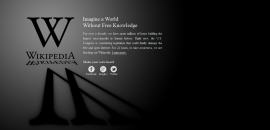 Wikipedia
Wikipedia was more active in protesting against SOPA and PIPA.  Wikipedia's protest prevented visitors from seeing any content on the site, save for one page that explained SOPA and PIPA.  In place of the site's usual content Wikipedia blacked-out the site and explained to users;
"For over a decade, we have spent millions of hours building the largest encyclopaedia in human history. Right now, the U.S. Congress is considering legislation that could fatally damage the free and open Internet. For 24 hours, to raise awareness, we are blacking out Wikipedia. Learn more."
But more importantly Wikipedia used the opportunity to place three social intent links on the page.  When clicked these posted text, such as this, on Twitter, Facebook, and Google+, "I support #wikipediablackout! Show your support here http://tinyurl.com/7vq4o8g"
Topsy reports that this link was tweeted over 218,000 times on Wednesday, making it the most tweeted link to the Wikimedia Foundation's website.  By contrast the second and third most tweeted links only score 10,000 tweets each, and both of these are to do with the Foundation's other SOPA protests.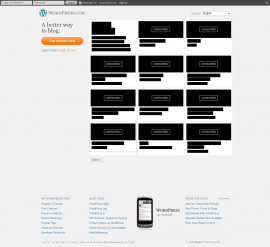 WordPress
Wordpress.com censored itself today and replaced its usual homepage with links to SOPAstrike.com.  Topsy reports that over 53,500 tweets were sent today about the blogging network's blackout.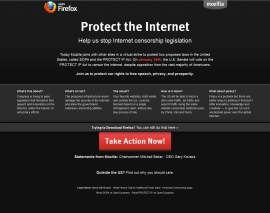 Mozilla
The Firefox maker begin protesting against SOPA and PIPA over two months ago, and over this time Mozilla has maintained its own anti-SOPA page and co-written an open letter against the acts with Google, Facebook, Zynga and others.  Over the past two months Mozilla has generated just under 20,000 tweets about SOPA and PIPA, about 15,000 of which were created today.
Mozilla's link the Electronic Freedom Foundation's anti-SOPA/PIPA page reportedly generated 676 links today.  Mozilla's lower impact is probably because fewer people need to visit the site on a daily basis.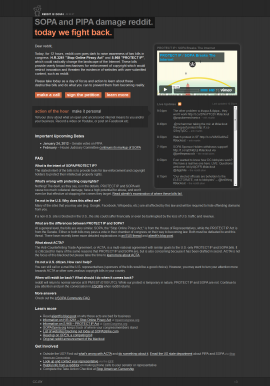 Reddit
Today Reddit generated about 25,000 tweets mentioning SOPA that link to its site.  Reddit gave a prominent place in its blackout to sopastrike.com which today registered about 54,500 tweets.  Americancensorship.org, which Reddit also linked to, and which has been prominent in opposing the acts was tweeted about 98,000 times according to Topsy.
ICanhasCheezBurger
ICanhasCheezBurger's anti-SOPA page, according to Topsy, generated a disappointing 400 tweets on Wednesday.  Across the ICanhasCheezBurger.com site Topsy reports that there were about 600 tweets to pages on the site that mention SOPA.  Like Reddit, this number is surprisingly low considering the size of the site.
Of course tweets don't necessarily translate into actions, so the true impact of the protests – to encourage American users to contact their local representative – will only be known when the two acts are voted on in the next month.