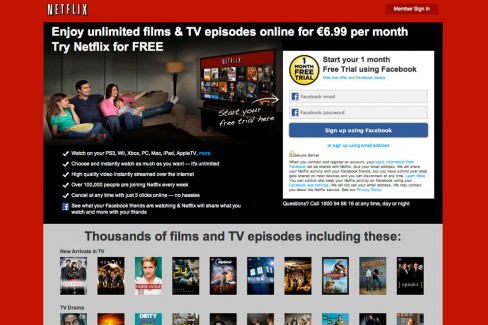 Netflix, the film and TV episode streaming service, has officially launched in the United Kingdom and Ireland as of today, complete with one-month free trial. While some users reported early access to the service yesterday, both netflix.co.uk and netflix.ie are officially available from this morning.
Netflix already has 20 million members across 47 countries and today's launch is yet another chapter in the company's on-going international expansion outside of the United States. From today, subscribers in the UK and Ireland have access to films and TV programmes from All3Media, the BBC, CBS, 4oD, Disney Channel, ITV, Lionsgate UK, MGM, Miramax, Momentum Pictures, NBCUniversal, Paramount, Sony Pictures Entertainment, Twentieth Century Fox and Viacom International Media Networks – with this list set to expand in the future.
The service is compatible on over 700 devices, including PCs, Macs and internet-enabled TVs, all three major gaming consoles – the PS3, Xbox 360 and Wii, on the iPhone, iPad, and Android smartphones and tablets, and on a range of Blu-ray players and home theatre systems.
With today's launch, Netflix is taking-on already established LoveFilm, a similar streaming service offered by Amazon to customers in the UK. Netflix offer their unlimited streaming service for £5.99 per month in the UK (€6.99 in Ireland), while LoveFilm's equivalent offer, which includes two DVD rentals, is billed at £9.99, substantially higher.
Let the online streaming price wars begin.