Apple's physical retail stores perform better than any other. In fact, Apple's performance, measured in annual sales per square foot, is 17 times higher than the average retailer and twice as efficient as its nearest rival.
The RetailSails data comes from a sample of 160 physical store retailers in the United States that publicly report results. Sales per unit area, in this case sales per square foot, is a standard measurement used to determine a store's success.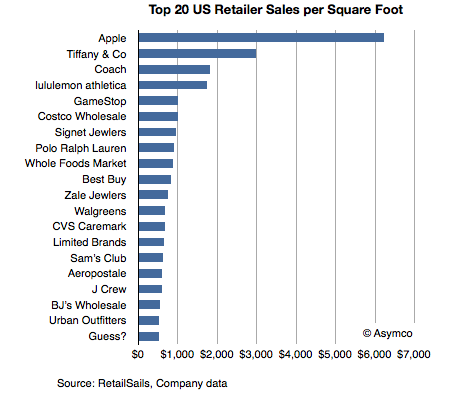 The average sales per square foot for regional malls in the United States is $341, $400 for specialty clothing retailers and $600 for jewellers. The average score for the top 20 performing retailers in RetailSail's 160-strong sample is $787 per sq. ft.
Apple stores score significantly higher than this. Apple has annual store sales of over $6,000 per sq. ft., twice as high as second place retailer Tiffany & Co on $3,000 per sq. ft.
It doesn't stop there. While Apple leads in sales performance by some margin, it also leads in year-on-year performance growth. Apple's sales per sq. ft. performance growth stands at around 70% in one year, compared to its nearest rival Lululemon Athletica on 45%.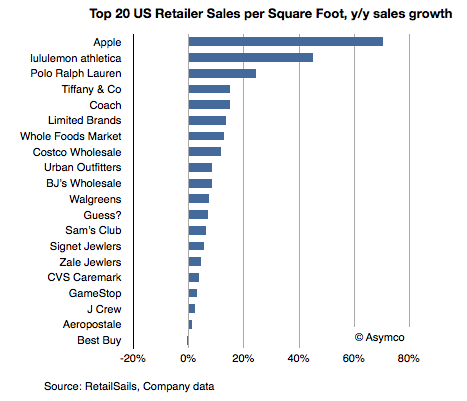 Apple may have an advantage over other companies in some respects, skewing the data a little. For one, Apple only has around 300 stores worldwide, significantly less than some others considered. Apple's product line is also focussed and expensive, with consumers often having decided on a particular purchase before entering the door.