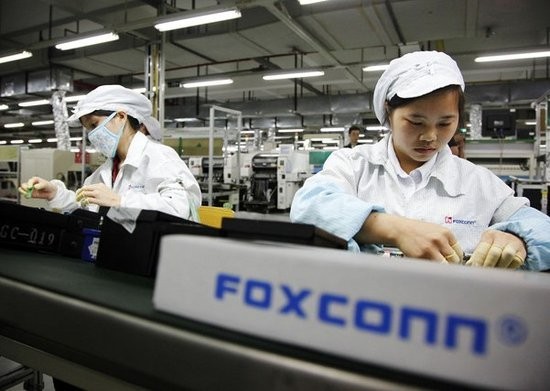 The world's largest electronics manufacturer with a reputation for human rights abuses, Foxconn, looks to replace human workers with robots in three phases at its Chinese factories.
If you own any electronic device, odds are it was built in a Foxconn factory. Products by Apple, Sony, Amazon, Nintendo, and many other big name brands all have their hardware roots in Foxconn's facilities.
Apart from having a reputation of being "ranked first among Taiwan enterprises according to the evaluation of Taiwan Ratings for ten consecutive years," Foxconn is also known for the 14 suicides that took place at its factories due to poor working conditions and human rights abuses in 2010.
With the additional threat of a "mass suicide protest," the corporation installed "suicide nets" on their buildings to discourage workers from leaping to their deaths.
Now, it seems that Foxconn wants to do away with most of its workers altogether — the human kind that is. Digitimes reported on Friday that Foxconn "is automating production at its factories in China in three phases, aiming to fully automate entire factories eventually."
What better way to solve the human rights abuse question than by eliminating those who would complain? It would certainly prevent another fiasco like the one in 2012 when 2,000 employees staged a riot that shut down one of Foxconn's plants in the city of Taiyuan.
The three phrases of automation according to Foxconn general manager Dai Jia-peng as reported by Digitimes are:
To set up individual automated work stations for work that workers are unwilling to do or is dangerous.
Entire production lines will be automated to decrease the number of robots used.
Entire factories will be automated with only a minimal number of workers assigned for production, logistics, testing and inspection processes.
In actuality, what Foxconn is doing is quite innovative with over 40,000 industrial robots called Foxbots produced in-house, and the company can even manufacture 500,000 iPhones every day, according to the New York Times.

While the Taiwan-based Foxconn is "China's largest private employer," the corporation is pushing the Artificial Intelligence agenda to replace human workers with robots in full force.

However, if machines are to replace humans in the workforce, which has been an issue since the Industrial Revolution, then who would benefit?

Read More: Job-stealing restaurant robots fired for incompetence & the future of the workforce

Theoretically, if all workers are to be robots, then what are the non-robots — you and I? How do we make a living? It is statistically and logically impossible for humans to make money if they do not have jobs because they were replaced by robots. So what happens to us?

As Autodesk CEO Carl Bass put it, "The factory of the future will have only two employees: a man and a dog. The man will be there to feed the dog. The dog will be there to keep the man from touching the equipment."

<!-comments-button-->