With Instagram recently passing 1 Billion monthly active users, it's no wonder businesses are now flocking to the platform and doubling down on strategies that will result in significant ROI. We've all been around long enough to know that Instagram is an incredible tool for building a community and creating brand awareness, but in the following post we will share how you can now begin to generate high quality leads through creative Instagram Stories. With more than 300 million people using stories on a daily basis, it's easy to see when businesses were asked "What type of content do you plan to create in 2018?" 68% of them said "More Instagram stories".
The question is, how do brands turn all of those users into loyal, long term customers? Well, to start, you have to direct those users to a location where you can provide them with something that's unique and valuable, and as it turns out, users actually prefer to engage with brands on their website.  So, think of Instagram as a highly creative acquisition channel, and the place where you can provide the most value to your customer, is your site, where you have the ability to tailor and customize as you see fit.  With that in mind, below are my top tips for generating leads through Instagram Stories.
Step 1: Create stories that are unique, interactive and make people want to swipe.  
It probably goes without saying but the first part of convincing people to swipe up on your stories, is to make them as interactive and engaging as possible. Stories that allows the user to interact and connect with the content is always much better than static standalone images that don't actually tell a story or excite the reader. Note below how Away tempts their viewers to keep tapping through multiple screens by incrementally showing more and more colors. On the last image users are then subtly shown a CTA, where you can swipe up to see what all the fuss is about.
Step 2: Create Instagram specific landing pages
Awesome, your viewer has swiped up and is now on one of your customized Instagram landing pages. It's important to note that when transitioning from one platform to another, you need to make sure that the journey is as cohesive as possible for the user. If the messaging, style or promise is different on your landing page than it is on your story, the user may detect a disconnect and immediately bounce. Continuity is the king of conversion.  
A great example of a CTA and Landing page that match is the one below from Thrive Markets.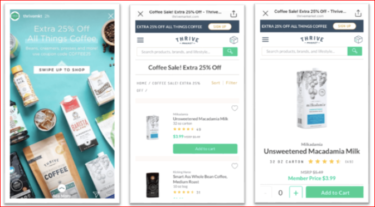 Remember, when designing Instagram specific landing pages, keep things as simple and cohesive as possible. You want to bring the user on a journey where they don't have to do too much figuring things out.  
Step 3: Have distinctive CTA's
You've done awesome, you've gotten the viewer scroll through your story, swipe up and visit your website, and view the content that you promised them. Now comes the tricky part, putting in place a CTA on that landing page which will involve the user giving you a little piece of information which will officially turn them from a viewer, into a lead. This can be done many different ways, but again to reiterate, it's best if the style and messaging match the style and messaging that the user was presented with when they originally viewed your story.  
Take a look below how Away do this. You first go through a series of interactive and engaging stories, until you are given a CTA to swipe up. If the user then spends more than 15 seconds viewing the content on this page, it is given an onsite CTA, which prompts the user to enter their email address to receive the latest travel stories, product updates, and special events happening at Away straight into their inbox. I mean, who wouldn't want that, right? It's creative, interactive, and most of all, non-intrusive.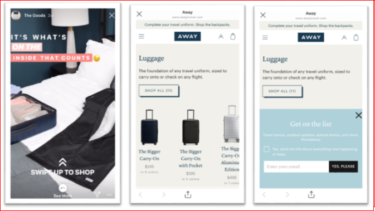 Step 4: Have some awesome content lined up to give to your new leads
Now that you have built up a nice repository of leads, make sure your follow up nurture campaign is rock solid. Remember why they signed up, and most importantly remember that they originally came from swiping up on an Instagram story and tailor your content for that particular audience. When it comes to nurture campaigns, I like the 80/20 rule. This means that 80% of the messaging should include free, entertaining content, while only 20% should have "an ask". Developing that trust with your customers early on will lead to the LTV of that customer being much greater.  
Step 5: Don't be afraid to experiment with different styles of stories.  
When it comes to Instagram Stories, there's no such thing as a one size fits all. Some cool formats to try with stories are, Behind the scenes, Instagram Story takeovers, or even Instagram Story giveaways. The one thing to remember is
Make your stories creative/interactive

Make the journey cohesive with customized, consistent landing pages

Make sure your CTA's are also creative, but more importantly, non-intrusive.