This Holiday Season (or Christmas, depending on which side of the Atlantic you're on) smartphones and tablets will be disruptive technologies for eager shoppers and store owners.
According to Accenture "54 percent [of consumers this year] will use [smartphones or mobiles devices] to compare prices while in a store, and one third (35 percent) of tablet computer users do the same…43 percent of those holiday shopping with their mobile or smartphone believe that they will help them to bag better discounts "
It is this technology savvy, bargain hungry, audience that will likely be turning to Shopntella, a social e-commerce/recommendation site from entrepreneur Adam Roozen (we recently profiled another of Roozen's recent start-ups, a social media monitoring and sentiment engine, Proliphiq).

Shopntella uses similar processes as Proliphiq to create crowdsourced opinions and recommendations from the general public and friends about products.  For example, a search for digital cameras will show which cameras are the most discussed and which the most popular according to Shopntella's users and social media users on Twitter, Facebook, and YouTube.
From this information Shopntella promises to create better informed consumers.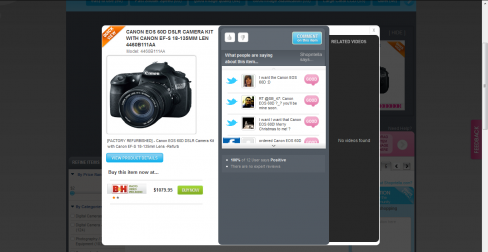 Shopntella has given us a few preview codes to the site, which is due to launch soon.  If you want one tweet us, @thesociable.
We spoke to Roozen about Shopntella, its origins and the state of social e-commerce.
Explain Shopntella to us?
Shopntella is an easy, approachable method to find products.  Everybody's got an opinion about products. Our unique ntella score technology collects data from multiple social networks to help users understand how much people are talking about a particular item and what the collective opinion on that item is! It's a simple and effective way to know what you're getting before you buy it, sort through the clutter and become a savvy shopper. Check the ntella score on any item, ask questions, get the opinion of your friends, and more!
How did it come about?
People have always sought opinion and persuasion in making purchase decisions. That opinion and conversation has increasingly moved online. It made sense to give people access to content, community and commerce in one place in an intuitive way that made online shopping quick and easy.
What can a social layer add to online shopping?
Our social layer provides two benefits.
Aggregated candid, real-time conversation about a product.
The ability to access and ask questions to your trusted network of friends and family easily at the point of decision-making.
Has commerce been over looked in the social sphere?
Commerce in the social sphere has a presence and is small but growing. On the other hand, the integration of social media into commerce has gained more momentum. However, what no one has yet done is merge the worlds of commerce and social media in an effective way. Shopntella provides an elegant solution to seeking and finding relevant opinion in the context of products. With the valuable feedback of our users, we have and will continue to hone the application to become an even better solution for our customers.
What is next for Shopntella?
We have several exciting things on our short-term and long-term roadmaps. A multi-channel presence, a more interactive community and B2B integration are a few of the things to come soon.