Overview: Google's Nexus 7 is a flawed gem if you're outside one of the launch countries but it's still worth getting.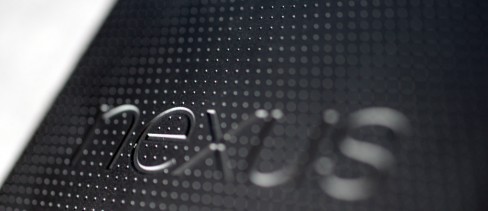 If you're living in the US, UK, or Australia this post isn't for you. It's for the rest of us. Those of us who have to look on while you get to play with Google's latest creation, the Nexus 7.
We've seen the reviews of the Nexus 7, and heard just how good it is but since the tablet has only been released in a select few countries that's all we could do.
Well, that's all most of us could do.  I, on the other hand, couldn't wait.  As a fan of Google and someone in the market for a new tablet I had to have one, even though I knew that because I live in Ireland I would be buying a device that would be limited in the content it could access.
As it stands now the Google Play Store, is severely limited across international markets.  Users in the US have access to movies, music, magazines, and books.  In the UK and Canada movies and books are on offer and in Australia the Play Store offers books.  For the rest of us we just get apps.
And as this is a copyright issue it could take some time for Google to launch the full Play store internationally.
Google Play's rain check
Normally this is minor annoyance, we're quite used to getting access to media after the US and other territories, but this is a specific problem for the Nexus 7 -the tablet is utterly tied into the Google Play Store.  When you first turn on the device the home screen is filled with icons for the Play Store's movies, music, books, and magazine channels.  Two floating windows show the latest recommended content on the Store – most of which you can't download without going through some US or UK proxy.  You feel like you've bought a next-gen console but forgot to get any new games for it – sure, you can play the old stuff but you know you're missing out on the fun.
Where this becomes immediately obvious is when using Google's built-in Shazam-like music recognition app.  The app works well but falls down when you try to open Google Play's music store and are greeted with this screen.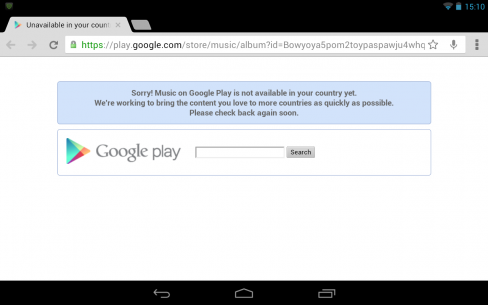 What this means is that users outside of the launch countries are left with the Google's vanilla app store.  This would be fine but there are just too few apps that have been designed for Android tablet devices.
Generally the apps scale correctly but most look for features found on Android smartphones – security apps like Lookout and Prey want to know your mobile number while Dropbox's Camera Upload feature is only useful for uploading screen grabs.  Firefox shines out as one of the few mainstream developers to have released a tablet-optimized app, but even this is in beta.
Google Now, at some point in the future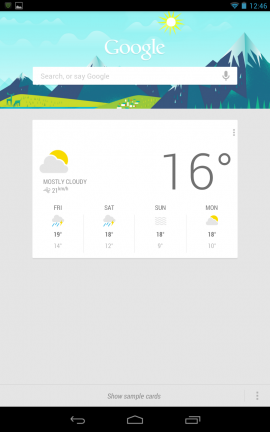 But the real sense of loss comes from Google Now, the company's lifestyle-driven updates app, which is rendered near useless outside the US.  Google Now offers up-to-date information on weather, traffic, transport, sports, and places amongst others.  Except over here all we can get it to show is the weather – the app won't even allow us to set our favourite sports team.
So, apart from these issues, which are to be expected if you import a Nexus 7 from a launch country, is the tablet any good?
It is, actually.
Jelly Bean on the Nexus 7 is lightening fast, and I've found it to be more enjoyable and faster to use than iOS.  The pre-installed apps, most of which have been developed by Google, are a joy to use.  You really start to see the value of Google+ as a discovery platform when you use it on the tablet and Chrome is a seamless experience to the desktop version.  Gmail is not as visually refined as the other apps but is functional (and I suspect that's the point).
The tablet's build is flawless – the widescreen paperback size makes the iPad look monstrous.  This is a device you could easily throw into a satchel or handbag without adding any extra weight.  The screen is crisp, and certainly puts the iPad one to shame, but isn't as clear the retina iPad.  The device is let down by the low internal volume, even when set to the maximum level, and the single 1.3 Megapixel front-facing camera remands you of the early days of cameraphones.
In spite of not having a 3G connection the mapping and location apps on the Nexus 7 are outstanding.  Google Earth, which has always been a good app for testing your PCs and smartdevices' speed, is extremely fast and benefits from the Nexus 7's super-sensitive screen.   We got to try Google Maps' navigation features a few times and found them to be accurate but because the Nexus 7's internal volume is quite low, even when racked up, it can be hard to hear over a noisy engine.
Nexus 7 Roundup
If you are in one of the supported release markets than the Nexus 7 is a no brainer.  The design and build of the tablet, as well as the tablet-specific apps, make it one of the most enjoyable and user friendly tablets on the market.
If you aren't in one of the launch locations but you are in the market for a tablet I then would still recommends the Nexus 7.  The build quality is great and the screen is sharp and if you really want access to media you could use a proxy.  It's also reasonable to expect that Google will be rolling out access to the wider Google Play Store in the future. With the possible exception of Google Now and a high-quality camera, very little is permanently missing from the Nexus 7 outside of the launch countries.
If you're still not sure about the Nexus 7 another option is to wait for Microsoft to release their Surface tablets in October before making a decision to go for a branded tablet.  You could also wait for the still-unconfirmed release of the iPad Mini this year.
Outside of the launch locations the Nexus 7 is ideal for offices that want a cheap but powerful tablet or individuals who want something small, portable, and reliable.
Recommendations for importing a Nexus 7
Because you'll be storing a lot of your media on the device do go for the 16GB version if you can (Google has placed restrictions on purchasing the 16 GB Nexus 7 due to demand).  If you are looking for a case then head over to Amazon and have a look at some of the Kindle cases, many of these will fit the Nexus 7.
As the device charges through a USB you don't have to worry about buying an adapter to convert US/UK plugs to those in your territory.