Ask any social media guru and they'll tell you that the rewards for investing time in tweeting and status updating are purely qualitative – but we don't think that's good enough.  And neither, it seems, does Electric Ireland, which this week announced the return of the insanely popular Tweet Café to the Dublin Web Summit.
The idea behind the Tweet Café is very simple.  Before you stands 24 numbered Perspex safes which contain various goodies (usually caffeine and cakes).  To access one of the boxes attendees to the Web Summit will be required to tweet the hashtag #tweetcafe along with the box number (e.g. #tweetcafe12)*.
2011 was the inaugural year for Tweet Café and it proved to be a bit of a surprise hit – even Electric Ireland described the demand as "overwhelming."  It wasn't just the caffeine that brought the 2,000 strong attendees to the café but the networking opportunity.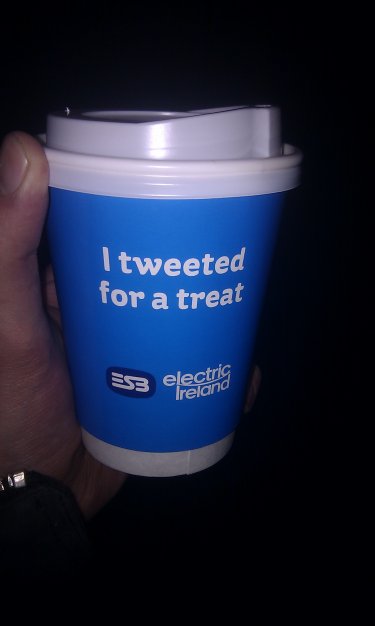 The Tweet Café was one of the best places that attendees could get the talk to some of the event's speakers.
Describing the Café, the Dublin Web Summit's founder, Paddy Cosgrave, said it was "a real highlight of the summit, not only does it reward tweeters with a coffee but it is a great opportunity to meet our speakers."
This year Electric Ireland (@electricireland| Facebook) will also be giving out spot prizes to attendees who Tweet for a Treat but this won't be the only prize they'll be handing out.  The company, Ireland's largest energy supplier, will also be giving away €100,000 to the Spark of Genius winner.
The Spark of Genius start-up award will see 100 start-ups pitching their businesses to investors across the two days of the Summit.  This year the judges will include, Google Ventures, Andreessen Horowitz, Kleiner Perkins, Atomico, and Accel.
Last year's winners, Redeem and Get – the daily deal management service – have gone on to great success.  As of July this year they have processed over €1.6 million in vouchers and launched multiple new services.
*P.S. Don't try and Tweet for a treat if you're not at the event – we tested this last year…it didn't work.