The FBI moved its Counterterrorism Division data to Amazon Web Services (AWS) following the Las Vegas massacre in 2017, according to Deputy Assistant Director Christine Halvorsen.
Speaking at AWS re:Invent 2018 in Las Vegas this week, Halvorsen explained that the FBI moved its counterterrorism data to the cloud on AWS after the deadly shooting, which "resulted in a 98 percent reduction in manual work for analysts and 70 percent cost reductions," fedscoop reported on Wednesday.
"It would've taken us a day using Amazon Rekognition to recognize where he was in the videos"
"We had agents and analysts, eight per shift, working 24/7 for three weeks going through the video footage of everywhere Stephen Paddock was the month leading up to him coming and doing the shooting," said Halvorsen, who today was named "Person of the Year" by Homeland Security Today.
"If we had loaded that up into the cloud, the estimate is it would've taken us a day using Amazon Rekognition to recognize where he was in the videos. That's all we were trying to do: narrow down where in the videos he was and who he was meeting with to make sure there wasn't anybody else part of the conspiracy," she added.
Last month Amazon came under fire from its own employees for selling facial recognition software "Rekognition" to law enforcement as it is being used by police departments and Immigration and Customs Enforcement (ICE) without ethical oversight.
Read More: '450 Amazon employees tell Bezos to kick Palantir off AWS'
"A couple weeks ago, my co-workers delivered a letter to this effect, signed by over 450 employees, to Jeff Bezos and other executives. The letter also contained demands to kick Palantir, the software firm that powers much of ICE's deportation and tracking program, off Amazon Web Services and to institute employee oversight for ethical decisions," an anonymous Amazon employee verified by Medium's editorial staff wrote last month.
The American Civil Liberties Union (ACLU) then filed a Freedom of Information Act (FOIA) request demanding that the Department of Homeland Security (DHS) disclose how it and ICE use Amazon facial recognition software Rekognition for law and immigration enforcement.
Read More: ACLU files FOIA request demanding DHS, ICE reveal how they use Amazon Rekognition
The ACLU filed a FOIA request demanding the DHS disclose to the public if and how the agency is using or plans to use facial recognition technology, such as Amazon's Rekognition.
However, the US Intelligence Community (IC), including the CIA, FBI, NSA, and others cannot keep up with the amount of Freedom of Information Act (FOIA) requests due to a lack of organization and inadequate tech.
Read More: Intelligence community can't keep up with FOIA requests: IG report
"The IC is not making use of all available technology to support FOIA programs, and there is no consolidated IC-wide approach to technology application," reads a report by the Intelligence Community Inspector General.
Amazon's Rekognition Software Performance Flaws
A study by the ACLU found that Rekognition incorrectly matched 28 members of Congress, identifying them as other people who have been arrested for a crime.
The members of Congress who were falsely matched with the mugshot database used in the test included Republicans and Democrats, men and women, and legislators of all ages, from all across the country.
Nearly 40% of Rekognition's false matches in the test were of people of color, even though they made up only 20% of Congress.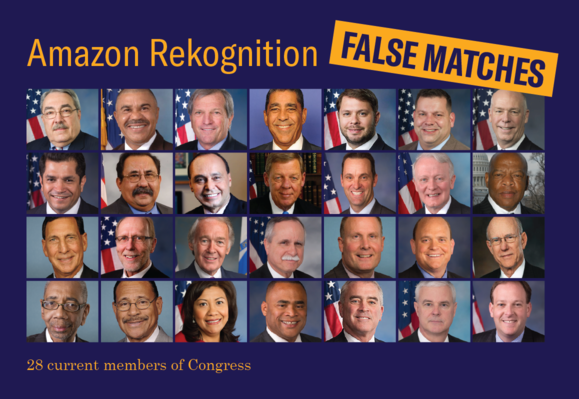 This same software is being used by immigration authorites and police to identify "undesirables."
Read More: Amazon, Palantir are aiding mass deportations of govt 'undesirables': report
"A handful of huge corporations, like Amazon Web Services and Palantir, have built a 'revolving door' to develop and entrench Silicon Valley's role in fueling the incarceration and deportation regime," reads a report released last month by Mijente, the National Immigration Project, and the Immigrant Defense Project.
Read More: United Airlines partners with scandal-ridden, CIA-backed Palantir for data initiatives
"Unchecked, these tech companies will continue to do the government's bidding in developing the systems that target and punish en masse those it deems 'undesirable' — immigrants, people of color, the incarcerated and formerly incarcerated, activists, and others," according to the report titled "Who's Behind ICE? The Tech and Data Companies Fueling Deportations."