Strong demand for Apple's iPhone 5 gave the US economy a boost in September, according to data released by the US Government.  While in Ireland the annual Dublin Web Summit is expected to contribute over €12 million to the country's economy as the government targets the tech sector for growth.
In the US, the Commerce Department said that several normal seasonal factors helped boost the US economy in September.  As expected, the month saw the usual increase of back to school goods and autos, but it also received an extra push from increased sales of iPhone 5 devices.
Sales of electronics and appliances grew by over 4.5%, the largest jump since October 2011 – when Apple released the iPhone 4S.  This also makes the electronics and appliances segment the single strongest performing segment in September.
Apple's iPhone 5 is being given much of the credit for this spike having sold five million devices in the month. Online retailers, such as Amazon, have also come in for commendation for having contributed 1.8% growth in online sales.
According to The Wall Street Journal this sort of spike in retail sales is now expected whenever Apple releases a new iPhone.
Jeremy Lawson, a Senior Economist with BNP Paribas, put it this way;
"Although we don't get a breakdown of the data by specific electronic goods, the jump in sales is probably due to the September 21 release of the iPhone 5."
While US consumer spending accounts for over two-thirds of the US economy, the news is good but it wasn't all down to sales of Apple's new iPhone.  Increased gas and grocery costs helped push up the numbers.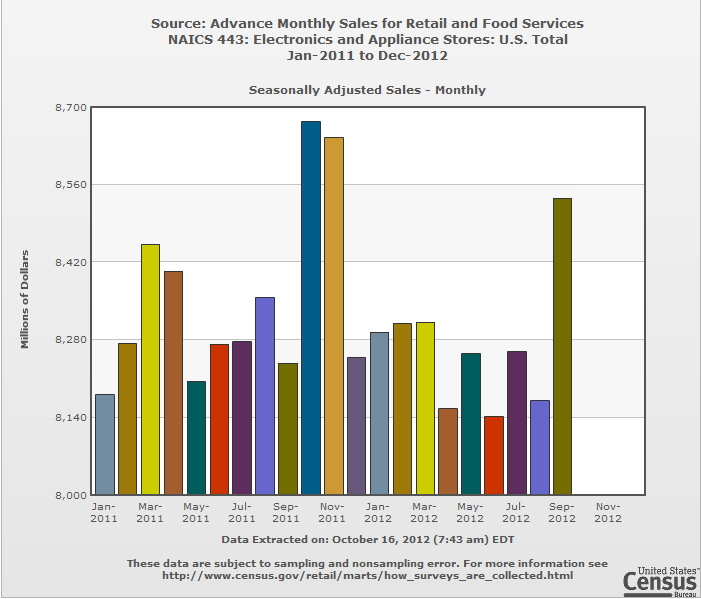 With a possible release of the iPad Mini before Christmas, and the usual expected increase in Android activations in December, it is likely that we will see another spike in consumer spending before the year is out.
In Ireland, over 4,000 Irish and international delegates, including hundreds of Venture Capitalists from Google Ventures, KPCB, Accel, Atomico, Andreessen Horowitz and Greylock are expected to attend the Web Summit, which is now the largest tech conference in Europe.
Paddy Cosgrave, the founder of the Dublin Web Summit said that bringing this mix of investors and start-ups to Dublin will benefit the Irish economy;
"The Web Summit will contribute over €12 million to the Irish economy this week through a mix of investments, jobs creation, the event itself, accommodation and entertainment. Over the next two days we will bring up to 4,000 people who are passionate about tech and innovation together to learn, networking, share ideas and pitch."
The Irish Minister for Jobs, Enterprise and Innovation Richard Bruton T.D.  said, "The technology sector is a hugely important part of the transformation that is occurring in the Irish economy, and over 5,000 new jobs have been added in the sector since March 2011."
He added,
"In the Government's Action Plan for Jobs we have targeted this sector for growth through a series of measures including an International Start-Up Fund aimed specifically at the types of mobile entrepreneurs who will be present in Dublin this week.  The Web Summit is a great initiative that offers an amazing opportunity for Ireland to show the global technology community what we are doing in this area."
Hat tip MarketWatch