Six months after Google's +1 was released how are people using the service?
When Google launched its +1 button it said "our goal at Google is to get you the most relevant results as quickly as possible…+1 buttons across the web [will] make it even easier for you to recommend content to your friends and contacts, and make search results even more helpful and relevant."
To find out if this has happened we examined +1 data between September 25 2011 and October 5 2011 to see which sites were the most recommended, and which (if any) gained the most +1s.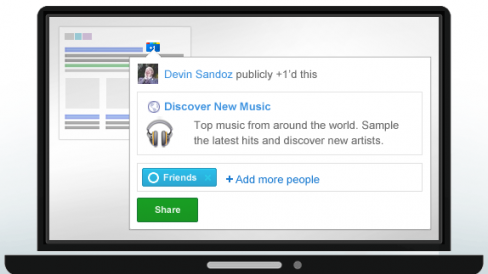 To see how different sites performed with +1s we installed the +1 Chrome extension, which shows the number of +1s a page has received.  To understand how the sites performed for +1s we visited each site's homepage over the 10 days.  In the case of sites with regional homepages (Google.com/Google.ie) we visited the US homepage.  All sites were visited when logged out except Gmail and and Google+, which required us to be logged in.
Our results suggest that +1 is still not a major player in the social sphere, and not yet a competitor to Facebook's Like button.  Our analysis of data from Google's Chrome extension suggests that +1 is still predominantly being used by early adopters.
The Chrome extension's data shows that social networking sites and tech sites are some of the most +1'd online, while news, sports, and search have yet to make a significant impact.  We also see that Google's own products frequently receive more +1s than those from other companies such as Yahoo!, Apple or Microsoft. This suggests that early adopters of Google's products are the main drivers of +1.
Social web. 
Facebook is the fastest growing site for +1s; in the two weeks that we monitored the site it added two thousand +1s, by contrast Twitter has added one thousand, while LinkedIn and Google+ have added none.
According to the extension's data Google+ is the most Google+'d social network with over 43 thousand +1s (up zero since September 25).  But Facebook is closing the gap.
Facebook is the second most Google+'d social network with 41k +1s (up from 36k on September 25).  Of course these 41K +1s pale into comparison to Google's four million fans on Facebook (not to mention Facebook's 53 million fans on its own site).
Perhaps not surprisingly Twitter is third, but at a significant distance from Facebook with 13k +1s (up from 12k on September 25).
After this LinkedIn comes fourth but only manages two thousand plus ones (no change from September 25).  This is likely due to the business audience the site targets, many of whom may not be interested in Google+.
In fifth place comes Flickr with only one thousand +1s (no change).
The former Facebook-competitor, MySpace, has 638 (up from 577) +1s.
Bebo comes last with 50 +1s (up from 43). Although Google's YouTube only has 43 +1s (up from 42).
Search
Reflecting what we already know, Google is the king of search with over 38k (up from 34k) +1s, Yahoo! comes second but only manages 3K +1s (no change), while Bing barely makes an appearance with one thousand +1s (no change).
Browsers
Chrome, perhaps owing to the release of the +1 extension, performs well with +1s.  Google Chrome's homepage records 465  +1s (up from 380). Interestingly Opera has 313 +1s (up from 275), suggesting a tech-savvy user-base, while Mozilla's Firefox records 126 +1s (up from 110).  Internet Explorer has a fraction of this number, 49 +1s (up from 11).
Email
Again Google comes out well in the +1 race when it comes to email services. Gmail has 5k +1s (up from 4k), this far exceeds Yahoo! Mail's 10 +1s (no change) and Window's Live Mail's (Hotmail) zero +1s (no change).
Smartphones
Google's +1 dominance is also seen in the smartphone OS wars.  Over 2K people +1'd the Android homepage (no change), this contrasts with 386 for the Apple iPhone 4 homepage (up from 295, a small number considering Apple's announcement yesterday) and two for the Window's Phone 7 homepage (no change).  RIM's BlackBerry homepage was +1'd 143 times (up from 128).
News
News sites have not done well by Google's +1 button. The New York Times, CNN, BBC News, and even Google News, only score one thousand +1s each.  Yahoo! News scores 93 +1s. Fox News and MSNBC, which are some of the most popular news sites online, only have 412 (up from 259) and 238 (up from 198) respectively.  Even the Huffington Post only has 806 +1s (up from 742).
Sports
The story is just as bad for sports news sites.  Only ESPN scores high, with 2K +1s (no change), in second place comes CNN's Sports Illustrated with 146  +1s (up from 134).  After this CBS Sports has 50 +1s (up from 38), Fox Sports has 36 (up from 33), Sporting News has a grand total of three (no change) and NBC Sports has nine (up from zero).
Tech News/blogs
In contrast to both mainstream news sites and sports sites, technology news sites and blogs fair far better.  Mashable currently has 30k (up from 28k) +1s, this is more than all the news and sports sites put together. The Next Web and Engadget have 7K and 5K respectively (no change). Gizmodo has 3K (no change), and TechCrunch has 890 (up from 782).
Conclusion
The data suggests that the +1 button has not made the jump from early adopters to the general public.  And in almost every area that Google has interests; search, social, browsers, and smartphones its products and services receive a greater number of +1s than others.
This isn't Google cooking the books but is likely caused by Google fans +1'ing Google services.  What this means for your search results is that technology, social networking sites, and Google's own sites have probably been given a boost while news, sports, and search sites have fallen behind.